No tickets are currently available.
Dynamic Pricing Info
Dynamic Pricing
ARC's policy is to set ticket prices based on demand, like budget airlines, which means we set a price when the event goes on sale and then sometimes put the price up or down depending on how the show is selling. Usually, the price will increase as we get closer to the event, so it is advantageous to book in advance, although sometimes we will put special offers on and reduce the price. Our website will always show the current ticket price.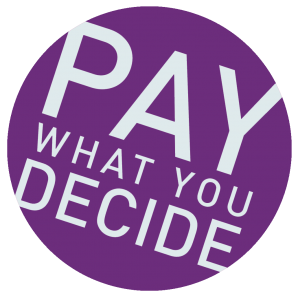 ARC's theatre and dance performances are priced on a Pay What You Decide basis, which means you don't have to pay until after you have seen a show!
We want to encourage more people to come and see shows at ARC, more often. Pay What You Decide not only allows you to pay what you can afford, rather than a fixed ticket price, but also removes the financial risk of buying a ticket for a show in advance without knowing whether you are going to enjoy it or not.
Tickets are available to book in advance as usual, but there is no obligation for you to pay until after you have seen the show. You can then decide on a price which you think is suitable based on your experience, which means if you haven't enjoyed it at all, you don't have to pay anything.
All money collected will help ARC pay the artists who have performed, and we therefore hope you will give generously.
Please ensure you have arrived and collected your tickets 15 minutes before the show starts in order to secure your seats. At the end of the show, you can decide what to pay, either by cash on the door or by card at the Box Office.
Undoubtedly one of the finest guitarists the world has ever seen, Double Grammy Award Winner Albert Lee is also an accomplished piano player and has a fine singing voice. He has a soulful voice but can equally 'tear it up' rock 'n roll style.
Co-writer of Country Boy and writer of many other great songs, always in great demand by other artistes, he has played on countless sessions worldwide. He has appeared and recorded with many of the finest artistes in the music industry, including Glen Campbell, Dave Edmunds, Dolly Parton, Bobby Bare, Joan Armatrading, Ricky Scaggs, Joe Cocker, Willie Nelson, Linda Ronstadt, Rodney Crowell, Vince Gill, Travis Tritt, The Blue Caps, Robert Wells and Earl Scruggs.
Albert was a member of The Everly Brothers Band, Emmylou Harris's Hotband and Bill Wymans' Rhythm Kings and toured extensively with them.  He also toured with his own band, Hogan's Heroes for many years.
In November 2002 Albert was amongst other world class names appearing at the Royal Albert Hall in the 'Concert for George', a tribute to George Harrison. In 2007, 2010 and 2013 and more recently in September 2019,  Albert appeared at Eric Clapton's Crossroads Festival in Dallas, Texas.
He appeared at a tribute concert honouring The Everly Brothers at The Rock and Roll Hall of fame in Cleveland, Ohio in 2014 duetting with Emmylou Harrison, Peter Asher and Alison Morer.  This was an amazing event with a whole host of stars.. Vince Gill, Graham Nash, Alison Krauss, Rodney Crowell to name but a few.  Don Everly joined the ensemble on stage for the encore and sang on the last verse of Bye Bye Love.
In December 2017 Albert joined Emmylou Harris, Glen D Harding, Ricky Skaggs, The Whites and Jerry Douglas for a benefit concert at the Musicians Hall of Fame in Nashville.
In 2017 Albert was awarded a trailblazer award by the Americana Society of the UK and in February 2018 Albert and his Band appeared on 'for one night only' special Grey Whistle Test.
Visit Albert Lee's Website
Follow Albert Lee on Twitter
Like Albert Lee on Facebook
Follow Albert Less on Instagram
Dynamic Pricing
We set ticket prices based on demand; the price can go up or down depending on how well a show is selling. The price will usually increase closer to the event date, so we always recommend booking in advance to take advantage of best price. You can read more about our dynamic pricing policy here.