No tickets are currently available.
Dynamic Pricing
ARC's policy is to set ticket prices based on demand, like budget airlines, which means we set a price when the event goes on sale and then sometimes put the price up or down depending on how the show is selling. Usually, the price will increase as we get closer to the event, so it is advantageous to book in advance, although sometimes we will put special offers on and reduce the price. Our website will always show the current ticket price.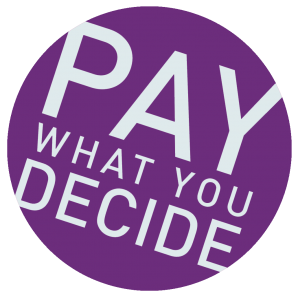 ARC's theatre and dance performances are priced on a Pay What You Decide basis, which means you don't have to pay until after you have seen a show!
We want to encourage more people to come and see shows at ARC, more often. Pay What You Decide not only allows you to pay what you can afford, rather than a fixed ticket price, but also removes the financial risk of buying a ticket for a show in advance without knowing whether you are going to enjoy it or not.
Tickets are available to book in advance as usual, but there is no obligation for you to pay until after you have seen the show. You can then decide on a price which you think is suitable based on your experience, which means if you haven't enjoyed it at all, you don't have to pay anything.
All money collected will help ARC pay the artists who have performed, and we therefore hope you will give generously.
Please ensure you have arrived and collected your tickets 15 minutes before the show starts in order to secure your seats. At the end of the show, you can decide what to pay, either by cash on the door or by card at the Box Office.
General Prices: £18 plus £0.10 booking fee
Seating: Mixed
So many top bands and so much rock that it's going to feel like a mini festival in one night. Remember, Remember the SIXTH of November because this is one date you need to keep free in your diaries.
Bad Touch
An unassuming college in Norfolk was where it began for rock five-piece Bad Touch. When they started out in 2010, they were performing covers in local pubs but it wasn't long before they started to compose and play original material.
Following in the footsteps of The Darkness, KT Tunstall and Arctic Monkeys, Bad Touch recorded their first EP at Leeders Farm Studio in 2012. This sparked a wave of new opportunities for the band, including the chance to perform in venues across the UK. Building a reputation as an outstanding live band, they soon earned themselves an Exposure Music Award, and received an invitation to play Hard Rock Hell.
The next two years saw Bad Touch reach new heights. Not only did they win the prestigious Marshall Ultimate Band Contest, but they also toured with a variety of hard rock artists including Bonafide, The Quireboys and Tyketto. They rocked the UK festival circuit with appearances at Download, Hard Rock Hell and Steelhouse.
Bad Touch's eagerly awaited debut album came in April 2015. 'Half Way Home', which was recorded at Foel Studios, received rave reviews from the critics, including Classic Rock Magazine who said: "Straight-to-the-point classic hard rock – what's not to like?" Capitalising on the success of their debut release, the band embarked on a full UK tour with Northern Irish rock band, The Answer.
Touring continued in 2016, with supports slots for Jared James Nichols, Kentucky Headhunters and Massive. The band rounded off their year on the road with the release of their second album 'Truth Be Told'. The lead single, '99%', was remixed for radio by legendary Rolling Stones producer, Chris Kimsey. Their critically acclaimed sound secured them a slot on the Planet Rock Roadstars tour as well as performances at Ramblin' Man, Wildfire and Amplified. After a hectic festival season, Bad Touch headlined their first tour for 'Planet Rock Presents'.
2018 is shaping up to be another defining year for Bad Touch, following their support tour with Skid Row in March and their recent worldwide album deal with Marshall Records.
Aaron Buchanan & The Cult Classics
Aaron Buchanan & The Cult Classics were formed by the former Heaven's Basement front man in mid-2016 currently comprising of Tom McCarthy and Laurie Buchanan on guitars, Mart Trail on Bass and Paul White on drums.
The Cult Classics have toured the UK and Europe alongside INME, Life of Agony and Royal Republic since the formation in support of their critically acclaimed album "The Man With Stars On His Knees", released on 26 May 2017. They've also had huge support from Planet Rock Radio and Kerrang along with appearances at both Download Festival and Ramblin' Man Fair.
The album went on to win Guy Bellamy's "Album of the Year" from a shortlist of over 150 bands and with 25,000 unique public votes. "Think Soundgarden. Think Muse. Think power. And think of a band who can back up a big riff with an even bigger chorus." This is what Team Rock said when they described "The Man With Stars On His Knees".
Hard Rock Hell posted "It's immediately obvious that Buchanan has seized the opportunity to strike free and plough a fresh creative furrow." Classic Rock gave a 7/10 review finishing with "Buchanan is back on his feet, and swinging from the heavens."
Daxx & Roxane
Daxx & Roxane are a kick-ass 4 piece rock 'n' roll band originating from Switzerland, and now based in London. With Led Zeppelin, Deep Purple and AC/DC as their key influences, it's no wonder that Kerrang! Magazine hailed them as "tooth-and-nail, testosterone-powered rock."
Their philosophy, that "Rock'n'Roll is all about energy, and "All about creating an adrenalin rush" is reflected in their intense live shows, as anyone who witnessed their storming homecoming gig at the Montreux Jazz Festival, and their UK headline tour in early 2018 would certainly tell you.  And being handpicked as main support at HIM's final UK show in December 2017 at the Camden Roundhouse, speaks for itself.
Their ability to craft songs with killer riffs that grab you and refuse to let go, combined with huge chorus hooks that mark them as instant classics, is reflected in their highly praised debut album, 'Ticket to Rock'. It's no surprise that their 5 killer singles have collectively spent nearly 50 weeks on the Planet Rock playlist (with Junk Food Hangover hitting an unprecedented 11 consecutive week roll).
Following their nationwide headline tour in early 2018, seeding the Daxx message into the hearts of rock fans all across the UK, they are ready to rock the Hard Rock Hell Road Trip in Ibiza on the 11th May, the Stone Free Festival at the London O2 on June 16th, and are gearing up for another tour in late 2018, re-visiting the new friends they've made around the UK, as well as proudly supporting some of the biggest acts on the circuit.
Fantastic audience support, and a host of 9 and 10 out of 10 album reviews, means 2018 is set to be a fantastic year. So, Hard Rock Hell Mag might just be right when they said that 'Daxx & Roxane are on the fast track to Superstardom…"
Plus main act tba!
Looking for a great bite to eat before the show?
Look no further than our modern and vibrant No 60 cafe bar for a fantastic place to enjoy a pre-show meal. You won't find a table closer to your seats anywhere in town.
No 60's menu is all about modern British food, from classic dishes you'll know and love alongside some of our chefs' personal favourites. Our ever-popular burger menu now offers over 30 combinations to choose from, and with a range of fresh and tasty vegetarian and vegan dishes there's something to suit every appetite.
Plus with a pre-ordered package you can enjoy a two-course pre-show dinner, including any main and any dessert for just £10, so you can save on the cost of your bill too!
See our full menu here.