Dynamic Pricing
ARC's policy is to set ticket prices based on demand, like budget airlines, which means we set a price when the event goes on sale and then sometimes put the price up or down depending on how the show is selling. Usually, the price will increase as we get closer to the event, so it is advantageous to book in advance, although sometimes we will put special offers on and reduce the price. Our website will always show the current ticket price.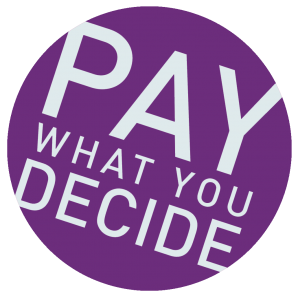 ARC's theatre and dance performances are priced on a Pay What You Decide basis, which means you don't have to pay until after you have seen a show!
We want to encourage more people to come and see shows at ARC, more often. Pay What You Decide not only allows you to pay what you can afford, rather than a fixed ticket price, but also removes the financial risk of buying a ticket for a show in advance without knowing whether you are going to enjoy it or not.
Tickets are available to book in advance as usual, but there is no obligation for you to pay until after you have seen the show. You can then decide on a price which you think is suitable based on your experience, which means if you haven't enjoyed it at all, you don't have to pay anything.
All money collected will help ARC pay the artists who have performed, and we therefore hope you will give generously.
Please ensure you have arrived and collected your tickets 15 minutes before the show starts in order to secure your seats. At the end of the show, you can decide what to pay, either by cash on the door or by card at the Box Office.
This class takes place in person only.
If you are looking for a fun new activity with added health benefits, Beginners Tai Chi is just what you need! It is ideal for people wanting to raise their activity levels gently and gradually as the low-impact exercise does not put much pressure on your bones and joints.
Originating in ancient China, tai chi is one of the most effective exercises for the health of the mind and body. Combine deep breathing and meditation with slow, flowing movements to improve your physical and mental state.
About the Tutor

Ken, our tai chi instructor, has 12 years of experience leading traditional tai chi classes and has a background in sports coaching.

Benefits of Tai Chi

This course will give you a clear step-by-step guide to achieving calm, fitness and balance and can also be practised for its health benefits, including:

• Improved posture

• Enhanced flexibility, balance and agility

• Strengthened and toned muscles

• Better mood, with lower levels of depression, stress and anxiety

• Better sleep

• More energy and stamina

• Enhanced flexibility, balance and agility

• Lower blood pressure and improved heart health

• Reduced inflammation

• Fewer falls

What do I need to bring?

Please wear loose, comfortable clothing that you can move easily in and supportive training shoes.