No tickets are currently available.
Dynamic Pricing
ARC's policy is to set ticket prices based on demand, like budget airlines, which means we set a price when the event goes on sale and then sometimes put the price up or down depending on how the show is selling. Usually, the price will increase as we get closer to the event, so it is advantageous to book in advance, although sometimes we will put special offers on and reduce the price. Our website will always show the current ticket price.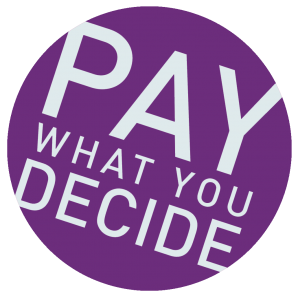 ARC's theatre and dance performances are priced on a Pay What You Decide basis, which means you don't have to pay until after you have seen a show!
We want to encourage more people to come and see shows at ARC, more often. Pay What You Decide not only allows you to pay what you can afford, rather than a fixed ticket price, but also removes the financial risk of buying a ticket for a show in advance without knowing whether you are going to enjoy it or not.
Tickets are available to book in advance as usual, but there is no obligation for you to pay until after you have seen the show. You can then decide on a price which you think is suitable based on your experience, which means if you haven't enjoyed it at all, you don't have to pay anything.
All money collected will help ARC pay the artists who have performed, and we therefore hope you will give generously.
Please ensure you have arrived and collected your tickets 15 minutes before the show starts in order to secure your seats. At the end of the show, you can decide what to pay, either by cash on the door or by card at the Box Office.
Seating: Allocated - See Seating Plan for More Details
Written and directed by Academy Award® nominee Branagh, Belfast is a poignant story of love, laughter and loss in one boy's childhood, amid the music and social tumult of the late 1960s. The cast stars Golden Globe nominee Caitriona Balfe, Academy Award® winner Judi Dench, Jamie Dornan, Ciaran Hinds, and introduces 10 year old Jude Hill. Dornan and Balfe play a passionate working-class couple caught up in the mayhem, with Dench and Hinds as sharp-witted grandparents. The film is produced by Branagh, Laura Berwick, Becca Kovacik and Tamar Thomas.
The screenings on Fri 4 Mar 7.30pm & Thu 10 Mar 2pm will have descriptive subtitles, find out more about subtitled screenings and our accessibility.
BBFC Ratings Information

threat and horror

A villainous character threatens to shoot a nine year-old boy, but his father quickly intervenes. The boy is caught up in sectarian rioting as petrol bombs are thrown. He cowers under a table with his family as cars explode and windows break.

language

There is infrequent use of strong language ('f**k'), and milder terms such as 'bloody', 'bugger', 'shite', 'arsehole', 'Christ', 'hell' and 'God'.

discrimination

The sectarianism of the Troubles is a theme of the film, which carries an anti-discriminatory message.

There is brief mild violence: a villain is disarmed by a thrown brick; there is a slow-motion punch to the face. There are infrequent mild sex references. Children steal from shops, but the negative consequences of doing so are clear. There are upsetting scenes relating to the death of a loved-one.