Pay What You Decide Info
Age guidance: 16+
Dynamic Pricing
ARC's policy is to set ticket prices based on demand, like budget airlines, which means we set a price when the event goes on sale and then sometimes put the price up or down depending on how the show is selling. Usually, the price will increase as we get closer to the event, so it is advantageous to book in advance, although sometimes we will put special offers on and reduce the price. Our website will always show the current ticket price.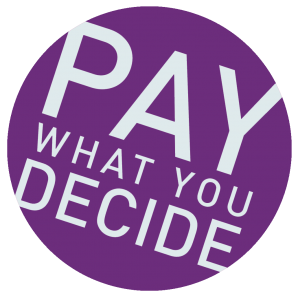 ARC's theatre and dance performances are priced on a Pay What You Decide basis, which means you don't have to pay until after you have seen a show!
We want to encourage more people to come and see shows at ARC, more often. Pay What You Decide not only allows you to pay what you can afford, rather than a fixed ticket price, but also removes the financial risk of buying a ticket for a show in advance without knowing whether you are going to enjoy it or not.
Tickets are available to book in advance as usual, but there is no obligation for you to pay until after you have seen the show. You can then decide on a price which you think is suitable based on your experience, which means if you haven't enjoyed it at all, you don't have to pay anything.
All money collected will help ARC pay the artists who have performed, and we therefore hope you will give generously.
Please ensure you have arrived and collected your tickets 15 minutes before the show starts in order to secure your seats. At the end of the show, you can decide what to pay, either by cash on the door or by card at the Box Office.
Seating: Allocated - See Seating Plan for More Details
Rowan McCabe (BBC Breakfast, Radio 3's The Verb) is the world's first Door-to-Door Poet. In 2019-20, he travelled around England, knocking on stranger's doors and writing poems for them, for free, on any subject of their choosing. Through this bold and arguably stupid act, he was trying to prove absolutely anyone can enjoy poetry and that strangers aren't as scary as they're made out to be. As world events took over, the project was pushed in a very different direction…
A show about trust, identity and community, this funny and thought-provoking mixture of theatre and spoken word tells the story of what happened to Rowan in the build-up to the lockdown, including his visit to 'the most deprived town in the UK', Buckingham Palace, and the isolated island of Lundy. At the heart of it is a discussion about the hopes and fears of a whole nation, during one of the most turbulent times in its history.
"Highly talented with verse"- Broadway Baby
"A must-see"- Morning Star
Running Time: 1 hour
Written and performed by Rowan McCabe
Directed by Peader Kirk
Supported with funding from Apples and Snakes and Arts Council England
Follow Rowan on Twitter
Follow Door-to-Door Poetry on Twitter
Follow Rowan on Instagram
Like Rowan on Facebook
Like Door-to-Door Poetry on Facebook