Dynamic Pricing Info
Dynamic Pricing
ARC's policy is to set ticket prices based on demand, like budget airlines, which means we set a price when the event goes on sale and then sometimes put the price up or down depending on how the show is selling. Usually, the price will increase as we get closer to the event, so it is advantageous to book in advance, although sometimes we will put special offers on and reduce the price. Our website will always show the current ticket price.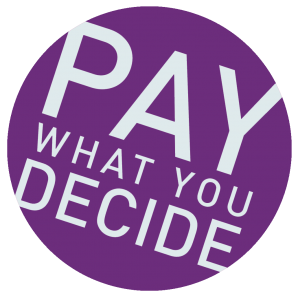 ARC's theatre and dance performances are priced on a Pay What You Decide basis, which means you don't have to pay until after you have seen a show!
We want to encourage more people to come and see shows at ARC, more often. Pay What You Decide not only allows you to pay what you can afford, rather than a fixed ticket price, but also removes the financial risk of buying a ticket for a show in advance without knowing whether you are going to enjoy it or not.
Tickets are available to book in advance as usual, but there is no obligation for you to pay until after you have seen the show. You can then decide on a price which you think is suitable based on your experience, which means if you haven't enjoyed it at all, you don't have to pay anything.
All money collected will help ARC pay the artists who have performed, and we therefore hope you will give generously.
Please ensure you have arrived and collected your tickets 15 minutes before the show starts in order to secure your seats. At the end of the show, you can decide what to pay, either by cash on the door or by card at the Box Office.
Seating: Allocated - See Seating Plan for More Details
John Cooper Clarke shot to prominence in the 1970s as the original 'people's poet'.
His unique poetry was put to music by producer Martin Hannett and a band of Mancunians The Invisible Girls. Seminal tracks such as Beasley St and Evidently Chickentown featured on the album Snap Crackle and Bop, one of 4 hit 70/80s album releases. JCC became one of the most prolific artists of the Punk years.
His 1980s poetry collection 10 Years in An Open Necked Shirt featured the lyrics to classic tracks from his albums and more, is one of the UK's biggest selling poetry collections of all time.
Since then his career has spanned cultures, audiences, art forms and continents.
Today he performs purely as a stand up solo poet. His unique poetry show has been touring worldwide for over 15 years.
John's 2018 poetry collection The Luckiest Guy Alive features 30 new poems, including the favourites; I've Fallen In Love With My Wife and Get Back on Drugs you Fat F*ck.
Dr John Cooper Clarke's 2019 autobiography, named after his most famous poem I Wanna Be Yours (Macmillan), is a groundbreaking piece of literature. JCC goes into fascinating detail about his early life in Manchester leading up to punk superstardom, drug addiction and then the massive comeback as a major poet he enjoys today.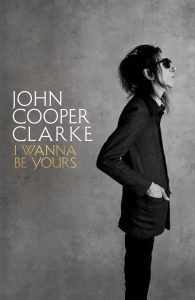 Visit John Cooper Clarke's website
Like John Cooper Clarke on Facebook
Follow John Cooper Clarke on Twitter
Follow John Cooper Clarke on Instagram