No tickets are currently available.
Dynamic Pricing
ARC's policy is to set ticket prices based on demand, like budget airlines, which means we set a price when the event goes on sale and then sometimes put the price up or down depending on how the show is selling. Usually, the price will increase as we get closer to the event, so it is advantageous to book in advance, although sometimes we will put special offers on and reduce the price. Our website will always show the current ticket price.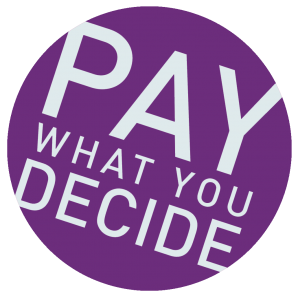 ARC's theatre and dance performances are priced on a Pay What You Decide basis, which means you don't have to pay until after you have seen a show!
We want to encourage more people to come and see shows at ARC, more often. Pay What You Decide not only allows you to pay what you can afford, rather than a fixed ticket price, but also removes the financial risk of buying a ticket for a show in advance without knowing whether you are going to enjoy it or not.
Tickets are available to book in advance as usual, but there is no obligation for you to pay until after you have seen the show. You can then decide on a price which you think is suitable based on your experience, which means if you haven't enjoyed it at all, you don't have to pay anything.
All money collected will help ARC pay the artists who have performed, and we therefore hope you will give generously.
Please ensure you have arrived and collected your tickets 15 minutes before the show starts in order to secure your seats. At the end of the show, you can decide what to pay, either by cash on the door or by card at the Box Office.
Seating: Allocated - See Seating Plan for More Details
This screening is part of the UK Asian Film Festival.
A harrowing tale of one of Lahore's most notorious serial killers is brought to life in our Opening Night film.
Javed Iqbal recounts the true story of a criminal who abducted and murdered over one hundred young boys between 1998 and 1999. Author Abu Aleeha adapts and directs their novel 'Kukri' into a sharp and gut-wrenching screenplay that focuses on Iqbal's own statements during his time in police custody. The film also shines a spotlight on the Lahore Police and their handling of the case amidst public scrutiny.
In Urdu, with English subtitles.
Plus post-screening Q&A with ARC Associate Artist Umar Butt.
About The UKAFF 2022
The world's longest running South Asian film festival outside India, UK Asian Film Festival.
At a time of global unrest and displacement, the curation of this year's festival is inspired by the theme Ray Of Hope. This year's line-up highlights stories of resilience and bravery, celebrating those who take a stand against oppression and injustice. At a time of great division and inequality, this year's festival content will feature characters, stories and storytellers that strive for a better world through films that highlight inclusivity, kindness and, above all, empathy.
Find out more about the UK Asian Film Festival