No tickets are currently available.
Dynamic Pricing
ARC's policy is to set ticket prices based on demand, like budget airlines, which means we set a price when the event goes on sale and then sometimes put the price up or down depending on how the show is selling. Usually, the price will increase as we get closer to the event, so it is advantageous to book in advance, although sometimes we will put special offers on and reduce the price. Our website will always show the current ticket price.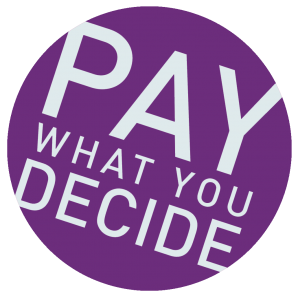 ARC's theatre and dance performances are priced on a Pay What You Decide basis, which means you don't have to pay until after you have seen a show!
We want to encourage more people to come and see shows at ARC, more often. Pay What You Decide not only allows you to pay what you can afford, rather than a fixed ticket price, but also removes the financial risk of buying a ticket for a show in advance without knowing whether you are going to enjoy it or not.
Tickets are available to book in advance as usual, but there is no obligation for you to pay until after you have seen the show. You can then decide on a price which you think is suitable based on your experience, which means if you haven't enjoyed it at all, you don't have to pay anything.
All money collected will help ARC pay the artists who have performed, and we therefore hope you will give generously.
Please ensure you have arrived and collected your tickets 15 minutes before the show starts in order to secure your seats. At the end of the show, you can decide what to pay, either by cash on the door or by card at the Box Office.
Seating: Allocated - See Seating Plan for More Details
The Beatles and India tells the story of The Beatles' culturally ground-breaking time in India.
The Beatles and India is a unique historical chronicle of the enduring love affair between The Beatles and India that started more than half a century ago.
Rare archival footage, recordings and photographs, eye-witness accounts and expert comments along with location shoots across India, bring alive the fascinating journey of George, John, Paul and Ringo from their high octane celebrity lives in the West to a remote Himalayan ashram in search of spiritual bliss that inspires an unprecedented burst of creative songwriting.
It is the first serious exploration of how India shaped the development of the greatest ever rock band and their own pioneering role bridging two vastly different cultures. Inspired by Ajoy Bose's book, Across The Universe – The Beatles In India, British Indian music entrepreneur Reynold D'Silva has now taken the amazing saga of The Beatles and India further by producing Bose's directorial debut. Bose and cultural researcher, co-director, Pete Compton, have created an audio-visual presentation that stands apart from the many documentaries on the band, delving deep into the most crucial period of their evolution from the world's most famous pop stars into multi-faceted pioneering musical artists.
Winner of audience choice and best music awards at the UK Asian Film Festival 2021.
The screening of The Beatles and India will be presented with subtitles.
BBFC Ratings Info (May Contain Spoilers)

drugs

There is brief archival footage in which marijuana is smoked, as well as several historical references to drug misuse in the 1960s, including the use of LSD. However, this is counterbalanced by commentators pointing out the negative effect and the failure of drugs to achieve spiritual enlightenment which was instead gained through immersion in meditation and the teachings of an Indian guru. Accordingly, drug misuse is not endorsed by the work as a whole. There are also references to a death caused by an accidental overdose of prescription medication. Images of cigarette smoking reflect the period in which the events documented by the film took place.

There is documentary footage of an Indian funeral ritual in which a shrouded body is placed on a pyre which is set alight. There is infrequent mild bad language ('bastard', 'shit', 'God'). There are references to racial stereotyping. There is brief mild violence in a scene from an old South Asian cinema feature. There are infrequent mild sex references. There is archive footage of a tiger hunt and of buildings in Liverpool destroyed by bombs during WWII.