Age: 14+
Running time: 1 hour 40 mins (including interval)
(Part 1: 20 mins / interval: 20 mins / Part 2 – England & Son: 60 mins)
Dynamic Pricing
ARC's policy is to set ticket prices based on demand, like budget airlines, which means we set a price when the event goes on sale and then sometimes put the price up or down depending on how the show is selling. Usually, the price will increase as we get closer to the event, so it is advantageous to book in advance, although sometimes we will put special offers on and reduce the price. Our website will always show the current ticket price.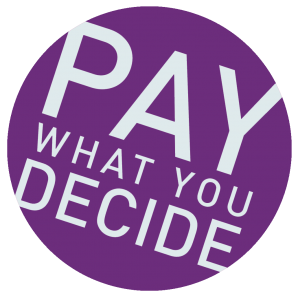 ARC's theatre and dance performances are priced on a Pay What You Decide basis, which means you don't have to pay until after you have seen a show!
We want to encourage more people to come and see shows at ARC, more often. Pay What You Decide not only allows you to pay what you can afford, rather than a fixed ticket price, but also removes the financial risk of buying a ticket for a show in advance without knowing whether you are going to enjoy it or not.
Tickets are available to book in advance as usual, but there is no obligation for you to pay until after you have seen the show. You can then decide on a price which you think is suitable based on your experience, which means if you haven't enjoyed it at all, you don't have to pay anything.
All money collected will help ARC pay the artists who have performed, and we therefore hope you will give generously.
Please ensure you have arrived and collected your tickets 15 minutes before the show starts in order to secure your seats. At the end of the show, you can decide what to pay, either by cash on the door or by card at the Box Office.
Seating: Allocated - See Seating Plan for More Details
"A nation that devours another will one day devour itself".
Set when The Great Devouring comes home, England & Son is a one-man play written specifically for the award-winning political comedian Mark Thomas by award-winning playwright Ed Edwards (The Political History of Smack and Crack, Paines Plough's Roundabout, Soho and UK tour).
This is the first play Mark has ever performed in that he has not written himself.
With some deep, dark laughs – and some deep, dark love – along the way, England & Son emerges from characters Mark knew in his childhood and Ed's lived experience in jail. Prepare for Mark to take you on a kaleidoscopic odyssey where disaster capitalism, empire, stolen youth and stolen wealth merge into the simple tale of a working-class boy who just wants his dad to smile at him.
Winner – Fringe First 2023
Winner – Lustrum Award Winner 2023 for unforgettable festival shows
Winner –  WOW (Entertainment Now) Edinburgh Festival Week 1 Best Theatre Show
Winner – Holden Street Theatres' Award Edinburgh Fringe Festival 2023
Winner – Entertainment Now Award for Outstanding Theatre
'a brilliant piece of political theatre… at its most entertaining, engaging and effective' (Morning Star Online)
'a searing one-hander that burns on long after the audience has vacated their seats' (Fest Mag)
'Tremendous energy and real pathos… a tremendous performance from Mark Thomas' (The Stage)
'fierce and sharp… profound and moving. A triumph for all concerned' (WhatsOnStage)
'heartbreakingly powerful, sharp and tragic… he remains one of the great performer-storytellers of our time' (The Scotsman)
Content Warnings

Contains references to violence and drug use.

Creative Team Biographies

ED EDWARDS – WRITER

Ed wrote and had published his first two novels while serving a three-and-a-half-year prison sentence for drug offences. Many years clean now, Ed went on to write for Brookside, The Bill and Holby City, as well writing short films for BBC 2 and Channel 4.

His most recent stage play The Political History of Smack and Crack won a Lustrum Award at the Edinburgh Fringe, toured nationally and is currently in pre-production as an animated feature film.

Ed is co-artistic director (with fellow writer and actor Eve Steele) of Most Wanted, a theatre and film production company based in Manchester, concentrating on work grounded in their joint lived experience of addiction and crime. Through Most Wanted, Ed directed Eve Steele's hit theatre show Life By The Throat and co-directed the feature film Scrambled, currently in post-production.

Ed also teaches creative writing at a northern university and is currently making a series of narrative films with addicts in treatment for a Lancashire drug-rehabilitation and mental health charity.

CRESSIDA BROWN – DIRECTOR

Cress Brown directed Ed Edward's award-winning The Political History of Smack and Crack at Paines Plough's Roundabout, Soho Theatre and UK tour.

Cress was resident director at the National Theatre Studio from 2007 – 2008 and although she has directed classical work nationally and internationally – including for the Globe, RSC and British Council – new writing is her passion. Since 2006 she has commissioned, developed and directed premieres with over 50 emerging and established playwrights.

Cress is probably best known for: Amphibians by Steve Waters inspired from interviews with former Olympic swimmers and staged in the hidden pool under the Bridewell Theatre stage; Walking the Tightrope by writers including Caryl Churchill, April DeAngelis, Timberlake Wertenbaker and Mark Ravenhill about freedom of expression; and the UK premiere of Obie Award winner Chris Chen's Caught.

After nearly 20 years of directing Cress is probably most proud of her Septimus Bean and His Amazing Machine by Adam Peck where she transformed the Unicorn Theatre foyer into a playground for her 6 year old audience during the final scene.

MARK THOMAS – PERFORMER

Mark Thomas has been a performer for 37 years; in his career he has had a TV show that changed the law, exposed corporate wrongdoing and put gun runners in jail. He has written plays, books and radio shows. He has awards ranging from 4 Fringe Firsts to a UN Association Global Human Rights Defender Award. This is the first play written for him.

Theatre: Seating Accessibility Information

Seat size

In our theatre the seats are 38cm (15″) wide and 44.5cm (17½") deep. The seats are 44cm (171/3") from the floor, and have an 8cm (3") gap between seats.

Armrests

Seats have armrests on either side of the seat which cannot be removed completely. Seats on rows A, C and D have armrests which can be folded away and slot between the seat backs. On all other rows armrests are fixed and cannot be folded or removed.

Legroom

There is 30cm (112/3") of legroom in front of each seat, with additional legroom in rows D and L, and in Box 1 and Box 2.

Further information

If you have any questions about accessibility our Box Office team are always happy to help and can be contacted on 01642 525199 or by emailing [email protected] - you can also tell us about your access requirements when prompted to do so during the online booking process.