No tickets are currently available.
Dynamic Pricing Info
Dynamic Pricing
ARC's policy is to set ticket prices based on demand, like budget airlines, which means we set a price when the event goes on sale and then sometimes put the price up or down depending on how the show is selling. Usually, the price will increase as we get closer to the event, so it is advantageous to book in advance, although sometimes we will put special offers on and reduce the price. Our website will always show the current ticket price.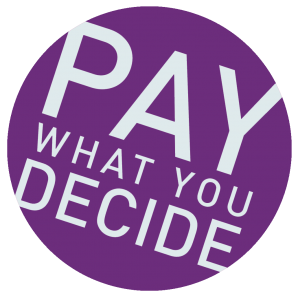 ARC's theatre and dance performances are priced on a Pay What You Decide basis, which means you don't have to pay until after you have seen a show!
We want to encourage more people to come and see shows at ARC, more often. Pay What You Decide not only allows you to pay what you can afford, rather than a fixed ticket price, but also removes the financial risk of buying a ticket for a show in advance without knowing whether you are going to enjoy it or not.
Tickets are available to book in advance as usual, but there is no obligation for you to pay until after you have seen the show. You can then decide on a price which you think is suitable based on your experience, which means if you haven't enjoyed it at all, you don't have to pay anything.
All money collected will help ARC pay the artists who have performed, and we therefore hope you will give generously.
Please ensure you have arrived and collected your tickets 15 minutes before the show starts in order to secure your seats. At the end of the show, you can decide what to pay, either by cash on the door or by card at the Box Office.
40 years since Nine Below Zero first offered a rhythm & blues alternative to the punk-pop of the mainstream, the south Londoners announce their 'Are We There Yet?' tour. With a reputation as "one of the best blues bands around today" for their scintillating live performances, this tour will not disappoint – expect a fearsome, supercharged set from start to finish.
"Nine Below Zero are back, re-united and with a big sound" – Blues in Britain
"One of the finest R and B acts around." – Louder Than War
Founding members Dennis Greaves (guitar & vocals) and Mark Feltham (harmonica & vocals) will be joined by Dennis' son Sonny Greaves on drums, Ben Willis on bass, Tom Monks on keys and the impressivefemale vocals of Charlie Austen. Starting in Dartford on October 5th the tour will coincide with the release of 'Avalanche', the band's 20th album on October 4th.
"Superbly executed, highly infectious" Record Collector
Formed in 1979 the band took their musical cues from the R&B greats of the '60s, with a harder-edged sound more akin to contemporaries Dr Feelgood with a strong dose of The Yardbirds. In a meteoric rise to prominence on the British blues scene, Nine Below Zero signed to A&M Records in 1980 and released the seminal 'Live At The Marquee album'. By the end of that year, they had moved from selling out the Marquee to selling out Hammersmith Odeon (now Apollo). High profile tours with The Who and The Kinks followed, as well as regular TV performances on The Old Grey Whistle Test and The South Bank Show and a guest appearance on The Young Ones. However, although their musicianship was reaching new heights, 1982's album Third Degree was the last album released by the classic line-up.
In recent years their diverse live act ranges from a classic 4-piece line-up to the stripped-down acoustic duo of Dennis & Mark and their 8-piece Big Band format – most recently with Squeeze on their UK tour – and this virtuosic 6-piece line-up. This 40th anniversary tour is set to be a 'celebration of all things Nine Below Zero' – from the adrenaline rush of 'Doghouse' through to the soulful stomp of 'Don't Play That Song' and new live favourites like 'Ter Wit Ter Woo'. The band will be returning to familiar venues from recent tours, places not visited for a while and even some locations that will be new to band and fans alike.
"Who knew this band was such a splendid live proposition? I certainly didn't, but now I'll be making plans to catch them in a headlining capacity. I'm only around 37 years late, but hey, I made it eventually." God Is In The TV Zine