No tickets are currently available.
Dynamic Pricing
ARC's policy is to set ticket prices based on demand, like budget airlines, which means we set a price when the event goes on sale and then sometimes put the price up or down depending on how the show is selling. Usually, the price will increase as we get closer to the event, so it is advantageous to book in advance, although sometimes we will put special offers on and reduce the price. Our website will always show the current ticket price.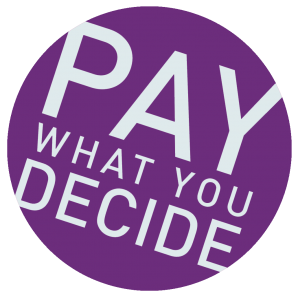 ARC's theatre and dance performances are priced on a Pay What You Decide basis, which means you don't have to pay until after you have seen a show!
We want to encourage more people to come and see shows at ARC, more often. Pay What You Decide not only allows you to pay what you can afford, rather than a fixed ticket price, but also removes the financial risk of buying a ticket for a show in advance without knowing whether you are going to enjoy it or not.
Tickets are available to book in advance as usual, but there is no obligation for you to pay until after you have seen the show. You can then decide on a price which you think is suitable based on your experience, which means if you haven't enjoyed it at all, you don't have to pay anything.
All money collected will help ARC pay the artists who have performed, and we therefore hope you will give generously.
Please ensure you have arrived and collected your tickets 15 minutes before the show starts in order to secure your seats. At the end of the show, you can decide what to pay, either by cash on the door or by card at the Box Office.
Seating: Allocated - See Seating Plan for More Details
Two single women meet in a hospital room where they are both going to give birth. One is middle aged and doesn't regret it, while the other is adolescent and scared. The two women form a strong bond with one another as they both confront motherhood.
In Spanish with English subtitles, find out more about subtitled screenings and our accessibility.
BBFC Ratings Information

sex

There is a brief scene of strong sex.

sexual violence and sexual threat

A young woman discusses an incident in which she had sex with a boy while under the influence of drugs. The act was filmed by two of his friends, who used the video to blackmail her and coerce her into having sex with them too. An older woman tells her that she was raped and that her silence allows her assailant to repeat his behaviour.

There is mild bad language ('whore'), and very mild terms such as 'damn'. There are also drug references, and scenes involving bereavement. References to violence are generally verbal and undetailed, but there is a scene in which skeletal human remains are exhumed, many years after a massacre.