Dynamic Pricing
ARC's policy is to set ticket prices based on demand, like budget airlines, which means we set a price when the event goes on sale and then sometimes put the price up or down depending on how the show is selling. Usually, the price will increase as we get closer to the event, so it is advantageous to book in advance, although sometimes we will put special offers on and reduce the price. Our website will always show the current ticket price.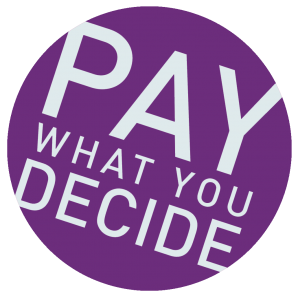 ARC's theatre and dance performances are priced on a Pay What You Decide basis, which means you don't have to pay until after you have seen a show!
We want to encourage more people to come and see shows at ARC, more often. Pay What You Decide not only allows you to pay what you can afford, rather than a fixed ticket price, but also removes the financial risk of buying a ticket for a show in advance without knowing whether you are going to enjoy it or not.
Tickets are available to book in advance as usual, but there is no obligation for you to pay until after you have seen the show. You can then decide on a price which you think is suitable based on your experience, which means if you haven't enjoyed it at all, you don't have to pay anything.
All money collected will help ARC pay the artists who have performed, and we therefore hope you will give generously.
Please ensure you have arrived and collected your tickets 15 minutes before the show starts in order to secure your seats. At the end of the show, you can decide what to pay, either by cash on the door or by card at the Box Office.
Part of Curious Festival 2022, Queer Shorts is a thought-provoking programme of short films by women and non-binary people of colour. The films selected for screening have been chosen by a community panel, and will be screened on a loop ahead of the ARC is Curious exhibition launch at 6.30pm, and cabaret at 7pm.
Drop in to ARC's cinema between 12pm – 6.30pm to see:
My God, I'm Queer (30mins)
Matt Mahmood-Ogston
Can you be Muslim and gay? A bereaved fiancé goes on a deeply personal journey to prevent the tragedy from ever happening again.
Egúngún (15 mins)
Olive Nwosu
The power of the past spans the divide between Nigeria and the UK in this beautiful tale of intersecting lives.
Tiny and Ruby: Hell Divin' Women (30 mins)
Greta Schiller
Profiling legendary jazz trumpeter Tiny Davis and her partner of over 40 years, drummer-pianist Ruby Lucas, Tiny & Ruby: Hell Divin' Women weaves together rare jazz recordings, live performances, vintage photographs, and narrative poetry by Cheryl Clarke.
For Love (13 mins)
Joy Gharoro-Akpojotor 
A couple battle for a future where they can find a home and freedom that is not determined by where they're from.
Space 2: We've Come A Long Way (6 mins)
Gillian Katungi
Journey that explores the experience of Black women and non-binary Scots as they exist in Scotland.
Beyond 'There's always a black issue Dear' (30 mins)
Claire Lawrie
Beyond 'There's always a black issue Dear' explores and celebrates black LGBT identities, to demarcate the huge influence that Black LGBT culture has had upon Fashion, Fine art, Dance, Music and Language, much of which has been appropriated by the cultural mainstream.