No tickets are currently available.
Pay What You Decide Info
Contains some light swearing
Dynamic Pricing
ARC's policy is to set ticket prices based on demand, like budget airlines, which means we set a price when the event goes on sale and then sometimes put the price up or down depending on how the show is selling. Usually, the price will increase as we get closer to the event, so it is advantageous to book in advance, although sometimes we will put special offers on and reduce the price. Our website will always show the current ticket price.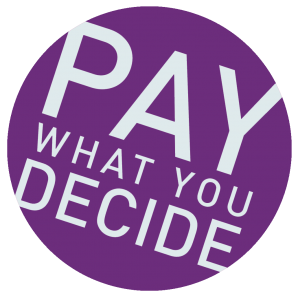 ARC's theatre and dance performances are priced on a Pay What You Decide basis, which means you don't have to pay until after you have seen a show!
We want to encourage more people to come and see shows at ARC, more often. Pay What You Decide not only allows you to pay what you can afford, rather than a fixed ticket price, but also removes the financial risk of buying a ticket for a show in advance without knowing whether you are going to enjoy it or not.
Tickets are available to book in advance as usual, but there is no obligation for you to pay until after you have seen the show. You can then decide on a price which you think is suitable based on your experience, which means if you haven't enjoyed it at all, you don't have to pay anything.
All money collected will help ARC pay the artists who have performed, and we therefore hope you will give generously.
Please ensure you have arrived and collected your tickets 15 minutes before the show starts in order to secure your seats. At the end of the show, you can decide what to pay, either by cash on the door or by card at the Box Office.
The Lawnmowers Theatre Ensemble present Retake, Remake!, a show where the actors take back films made about learning disabled and disabled people but without learning disabled or disabled actors. In a fun and sometimes profoundly moving way, they question this practice and replay snippets of these films through the art of lip-syncing and stylised movement.
The show however is more than an investigation into an outmoded Hollywood practice, it takes the ensemble and its audience on a wild-water-ride, discussing topics like dating, ownership, sexuality and eugenics. In a patchwork of film, music and popular culture the members of the ensemble ask for respect for people with learning disabilities. Even though, they feel, things are changing for the better, there is still a long way to go. They hope you will enjoy the ride, as they believe, it's a 'real eye-opener'.
"Packed with bags of humour and directed by Jan-Willem Van Den Bosch with fierce, kinetic energy, Retake, Remake is slyly funny, gloriously kitschy fun" – Exeunt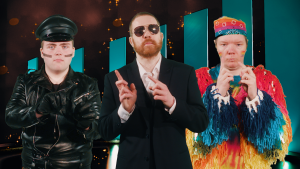 (Rescheduled from Tuesday 9 November – tickets booked for the original date will automatically be transferred)
Follow The Lawnmowers on Twitter
Like The Lawnmowers on Facebook