Pay What You Decide Info
Age: 16+
Dynamic Pricing
ARC's policy is to set ticket prices based on demand, like budget airlines, which means we set a price when the event goes on sale and then sometimes put the price up or down depending on how the show is selling. Usually, the price will increase as we get closer to the event, so it is advantageous to book in advance, although sometimes we will put special offers on and reduce the price. Our website will always show the current ticket price.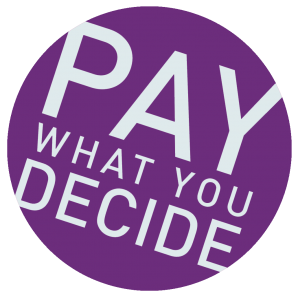 ARC's theatre and dance performances are priced on a Pay What You Decide basis, which means you don't have to pay until after you have seen a show!
We want to encourage more people to come and see shows at ARC, more often. Pay What You Decide not only allows you to pay what you can afford, rather than a fixed ticket price, but also removes the financial risk of buying a ticket for a show in advance without knowing whether you are going to enjoy it or not.
Tickets are available to book in advance as usual, but there is no obligation for you to pay until after you have seen the show. You can then decide on a price which you think is suitable based on your experience, which means if you haven't enjoyed it at all, you don't have to pay anything.
All money collected will help ARC pay the artists who have performed, and we therefore hope you will give generously.
Please ensure you have arrived and collected your tickets 15 minutes before the show starts in order to secure your seats. At the end of the show, you can decide what to pay, either by cash on the door or by card at the Box Office.
Seating: Unallocated - Cabaret
What is The Smog? Good question. About three years ago I drew a picture of a man falling from the top of The Swallow Hotel in Stockton High Street.
I gave him a name – Charlie Smog.
I gave him a job – Doyle Hunter.
Then I watched him fall.
The Smog has been living inside me for three years now, clawing at my dark matter and invading every creative nook and cranny with pictures, plot-lines and possibilities… slowly wrapping its black-green tendrils around my every waking moment. I need to exorcise this demon now, cause at the moment of writing this I am half man, half smog…
The show is unfinished. There will be moments of uncertainty, meandering plot line and unfinished stories.
But it will be a fun night out at the theatre.
There will be laughs.
There will be blood. Cannibal dogs, Vampire rabbits and tongueless brides.
There will be an alien takeover.
Dare you look inside the Smog?
"Teesside Surreal is A Thing. Scott Turnbull is its king" (Kirsten Luckins – North East Artist Development Review)
Follow Scott Turnbull on Twitter
Like Scott Turnbull's Content Hole on Facebook
Follow Scott Turnbull on Instagram
Follow Tales from The Smog on Instagram