Dynamic Pricing
ARC's policy is to set ticket prices based on demand, like budget airlines, which means we set a price when the event goes on sale and then sometimes put the price up or down depending on how the show is selling. Usually, the price will increase as we get closer to the event, so it is advantageous to book in advance, although sometimes we will put special offers on and reduce the price. Our website will always show the current ticket price.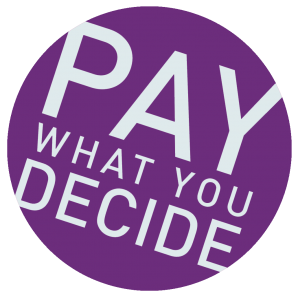 ARC's theatre and dance performances are priced on a Pay What You Decide basis, which means you don't have to pay until after you have seen a show!
We want to encourage more people to come and see shows at ARC, more often. Pay What You Decide not only allows you to pay what you can afford, rather than a fixed ticket price, but also removes the financial risk of buying a ticket for a show in advance without knowing whether you are going to enjoy it or not.
Tickets are available to book in advance as usual, but there is no obligation for you to pay until after you have seen the show. You can then decide on a price which you think is suitable based on your experience, which means if you haven't enjoyed it at all, you don't have to pay anything.
All money collected will help ARC pay the artists who have performed, and we therefore hope you will give generously.
Please ensure you have arrived and collected your tickets 15 minutes before the show starts in order to secure your seats. At the end of the show, you can decide what to pay, either by cash on the door or by card at the Box Office.
An exhibition of work from members of the Tees Valley Young Creatives Network.
Tees Valley Young Creatives is a ground-breaking, exciting, and career launching programme of free support to help talented professionals newly out of training to secure employment and unlock new opportunities in their field.
Developed in direct response to the challenges facing the Classes of 2020 and 2021 and the culture sector due to the coronavirus pandemic, the new Tees Valley Young Creatives network has been tailored to help those trained across the cultural industries sector, such as performers, artists, producers, technicians and more. It offers the chance to connect with other early-career creatives and access hours of valuable industry know-how.
For more information and to join the network please visit Tees Valley Young Creatives – ARC | Stockton Arts Centre
Artists exhibiting
Andrea Loades
My name is Andrea Loades. I recently graduated from Teesside University with first class BA (hons) degree in Interior Design and I am currently studying for an MA in Design. Together with my daughter, Abi, I have an interior design business called Studio Vita Interiors. We work on residential and commercial projects and we are hoping to branch out into interior products such as lampshades, cushions, wallpapers and murals. I am working my own range of designs which are digitally drawn and are inspired by nature and traditional Chinoiserie. I love to use colour and luxurious fabrics in my designs. In February I am exhibiting at the Surface Design Show in London where I hope to launch this collection as part of Studio Vita Interiors.
Ashleigh Gooding
Hi I'm Ashleigh Gooding, I've always enjoyed photography there is something about trying to get the perfect focus that shows the most detail. These are examples of some of my photos over the years from across the North East and my travels.
Ellie Guffick
Ellie Guffick is an illustrator, trainee art teacher and crafter from Hartlepool. She creates her artwork under the name MouldyMilkshake. She studied Illustration for Commercial Application at The Northern School of Art and is currently undertaking her training year to become an art teacher.
She continues to create illustrations and make earrings alongside her teaching, and sells these on her etsy. She also hopes to broaden her artistic disciplines since meeting so many different creative people.
With this collection of illustrations, 'Everyday Egg', Ellie aims to show how she presents herself in different areas of her life and how this overlaps and evolves to allow her personality to come across wherever she is.
Jake Loades
My name is Jake Loades and I'm a freelance illustrator. My screen name is xLoadez, which is just a cooler version of my surname (if you ask me). I like to illustrate characters, whether it's from video games, cartoons, anime or my own head. I take a lot of inspiration from the media of my childhood, with a particular focus on vibrant colours and thick, clean linework. I'd like to get into the gaming industry and see my character designs turned into something playable.
Rosanna Turton
Rosanna Turton is a 52-year-old artist and performer from Stockton-on-Tees. She learned the craft of making ceramics using air-dry clay through attending an adult education course run by the Learning and Skills Service in Billingham.
Rosanna has arthritis in both hands and decided to try using clay to help alleviate the pain and stiffness she experiences. She is also acutely aware that in the future her arthritis may progress to the point where making hand-made items is no longer possible. She therefore wants to create a body of work whilst she is able to do so, that she can then nag her husband to dust!
Rosanna is also a professional singer, songwriter, actor, scriptwriter and teacher. In 2021, she fulfilled a life-long ambition to gain a degree, graduating from APTA/Teesside University with a 1st Class Honours Degree in Performing Arts.
Rosanna is employed by ARC as a Network Builder for the Tees Valley Young Creatives Network and has recently recorded a monologue entitled "The Red Pill" for the "What's on Your Mind" project, commissioned by ARC.
About TVYC
The programme is funded by the Tees Valley Mayor and Combined Authority as part of their £1m Recovery Programme for the Cultural Industries and Visitor Economy. It has been co-designed with The Northern School of Art, Teesside University, and Stockton Riverside College; and will be delivered by a wide range of creative industry professionals under the leadership of ARC, Stockton Arts Centre.