No tickets are currently available.
Pay What You Decide Info
Age: 15+
Running time: 2hrs approx. (inc. interval)
Dynamic Pricing
ARC's policy is to set ticket prices based on demand, like budget airlines, which means we set a price when the event goes on sale and then sometimes put the price up or down depending on how the show is selling. Usually, the price will increase as we get closer to the event, so it is advantageous to book in advance, although sometimes we will put special offers on and reduce the price. Our website will always show the current ticket price.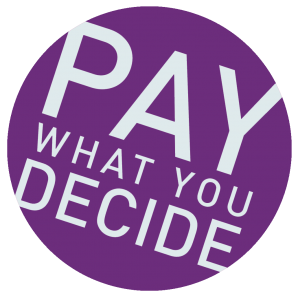 ARC's theatre and dance performances are priced on a Pay What You Decide basis, which means you don't have to pay until after you have seen a show!
We want to encourage more people to come and see shows at ARC, more often. Pay What You Decide not only allows you to pay what you can afford, rather than a fixed ticket price, but also removes the financial risk of buying a ticket for a show in advance without knowing whether you are going to enjoy it or not.
Tickets are available to book in advance as usual, but there is no obligation for you to pay until after you have seen the show. You can then decide on a price which you think is suitable based on your experience, which means if you haven't enjoyed it at all, you don't have to pay anything.
All money collected will help ARC pay the artists who have performed, and we therefore hope you will give generously.
Please ensure you have arrived and collected your tickets 15 minutes before the show starts in order to secure your seats. At the end of the show, you can decide what to pay, either by cash on the door or by card at the Box Office.
Whether we fall by ambition, blood or lust, Like diamonds we are cut with our own dust.
Loosely based on true events, John Webster's 1612 revenge drama has gone on to be one of the most popular plays from the Jacobean period.
The play tells the story of a Duchess who marries beneath her social class and is persecuted and tortured by her brothers, the insane Ferdinand and the pious Cardinal. They hire a spy, Daniel de Bosola, to track her movements. Bosola, however, has a crisis of conscience and vows a bloody revenge on the two brothers after a series of violent events.
In this anarchic and innovative reimagining forget what you expect about classical theatre. The chorus will make sure you follow it all and explain any archaic references. They'll also make sure any sketchy statements get called out.
Join us for an exciting night of theatre retelling a classic story in a new and dynamic way.
This is a collaboration between the wide range of Stage & Screen Programmes at The Northern School of Art including Acting, Film, Tv & Theatre Production, Production Design and Costume Interpretation with Design. Find out more about these courses.