No tickets are currently available.
Dynamic Pricing
ARC's policy is to set ticket prices based on demand, like budget airlines, which means we set a price when the event goes on sale and then sometimes put the price up or down depending on how the show is selling. Usually, the price will increase as we get closer to the event, so it is advantageous to book in advance, although sometimes we will put special offers on and reduce the price. Our website will always show the current ticket price.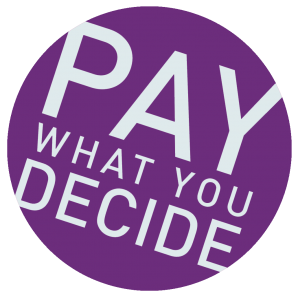 ARC's theatre and dance performances are priced on a Pay What You Decide basis, which means you don't have to pay until after you have seen a show!
We want to encourage more people to come and see shows at ARC, more often. Pay What You Decide not only allows you to pay what you can afford, rather than a fixed ticket price, but also removes the financial risk of buying a ticket for a show in advance without knowing whether you are going to enjoy it or not.
Tickets are available to book in advance as usual, but there is no obligation for you to pay until after you have seen the show. You can then decide on a price which you think is suitable based on your experience, which means if you haven't enjoyed it at all, you don't have to pay anything.
All money collected will help ARC pay the artists who have performed, and we therefore hope you will give generously.
Please ensure you have arrived and collected your tickets 15 minutes before the show starts in order to secure your seats. At the end of the show, you can decide what to pay, either by cash on the door or by card at the Box Office.
Imagine being born in an oven and the first person you meet wants to dunk you in his tea!
Come and see the adventure of the deliciously smelling Gingerbread Man who finds his feet fast and sets off on the journey of a lifetime!
Up and down and into town our Gingerbread Man must use his wits to escape anyone who finds him tasty. Is he faster than a Goose?  Can he cross a river using a Fox as a raft? Are Gingerbread Men allowed on trains?
Come and join in his epic quest and meet the bravest biscuit of all times!
Stuff and Nonsense apply their usual brilliance with a mix of puppetry, live action, great music, humour and a stunning staging in this exciting and pacey retelling of this well-loved classic tale. Suitable for families of all ages, even if you are three or eighty-three! No scary bits – just don't turn up hungry! Now run, run, as fast as you can, you need to get tickets to catch this Gingerbread Man!
Audiences:
★★★★★ "Great show, very clever and funny performance! Brilliant use of props. All the children were blown away!"
★★★★★ "The show was engaging and so clever. It was a joy to watch, beautifully played out. My girls have been re-enacting the chase scene since."
★★★★★ "My 3 year old just had the time of his life and left on such a high. What a fabulous production of the Gingerbread Man. We all loved it."
Before coming to see the show, why not colour in your very own Gingerbread Man, or bake one? We'd love to see pictures of your creations on social media #GingerbreadStuff #RunRun
Created with public funding from Arts Council England, support from The Berry Theatre, Hedge End & The Point Eastleigh, with additional support from Salisbury Playhouse and The Lyric Theatre Bridport.
Director                          Niki McCretton
Assistant Director        Ed Trotter
Puppetry                        Holly Miller
Performers                    Jake England-Johns and Hobbit
Composer                      Matt Huxley
Lyricist                           Toby Gascoigne
Design & Set Build       James Lewis, Tin Shed Scenery
Costume                        Rebecca Lewis
Lighting Design            Ollie Titterington
Follow Stuff & Nonsense on Twitter
Like Stuff & Nonsense on Facebook
Follow Stuff & Nonsense on Instagram
Visit Stuff & Nonsense's YouTube channel 
Please note: This is a socially distanced event. Seats are available in strict bubbles, which allow at least a 1m gap between parties. Due to the current COVID-19 restrictions in place, group sizes are currently restricted to a maximum of six people, who must all be from one household / support bubble. We have done our best to provide availability for groups of various sizes, but if you can't see the seating bubble you need for your group, we are happy to help you find appropriate seating. You can contact our Box Office with your seating enquiries on 01642 525199 or email [email protected].