No tickets are currently available.
Pay What You Decide Info
Age: 15+
Dynamic Pricing
ARC's policy is to set ticket prices based on demand, like budget airlines, which means we set a price when the event goes on sale and then sometimes put the price up or down depending on how the show is selling. Usually, the price will increase as we get closer to the event, so it is advantageous to book in advance, although sometimes we will put special offers on and reduce the price. Our website will always show the current ticket price.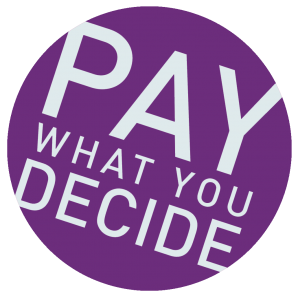 ARC's theatre and dance performances are priced on a Pay What You Decide basis, which means you don't have to pay until after you have seen a show!
We want to encourage more people to come and see shows at ARC, more often. Pay What You Decide not only allows you to pay what you can afford, rather than a fixed ticket price, but also removes the financial risk of buying a ticket for a show in advance without knowing whether you are going to enjoy it or not.
Tickets are available to book in advance as usual, but there is no obligation for you to pay until after you have seen the show. You can then decide on a price which you think is suitable based on your experience, which means if you haven't enjoyed it at all, you don't have to pay anything.
All money collected will help ARC pay the artists who have performed, and we therefore hope you will give generously.
Please ensure you have arrived and collected your tickets 15 minutes before the show starts in order to secure your seats. At the end of the show, you can decide what to pay, either by cash on the door or by card at the Box Office.
*This event can be attended in person or watched online. Book to watch online using the booking button on this page, or book here to attend in person*
The Northern Film Festival is the showcase for BA (Hons) Film, TV & Theatre Production as part of the ongoing partnership between The Northern School of Art and ARC. The evening is the culmination of their course and an opportunity for them to present their final films. There are four fantastic short films made by a collection of exciting young film makers featuring performances from Acting for Stage & Screen students and collaboration with Production Design, Costume Interpretation with Design and Visual Effects and Model Making.
The evening will also include a post-screening discussion with the creative teams about their creative process.
'The Festival will be a fantastic celebration of the superb work our third year students have created. They have worked incredibly hard on these films throughout the academic year. It is a great showcase of their skill, creativity and passion for filmmaking.' – Jonny Bussell, Faculty Leader for Stage & Screen
The four films being screened are:
Boulder & Pebble Blurb – written and directed by Samuel Burt 
Dan has been trained to do one thing – win. A sports prodigy kept in line by his unyielding Father. However, Dan's interests are elsewhere, he wants to choose his own path rather than the one laid out for him. But it's at the cost of hopefully one day making his dad proud.
'We've been doing a lot of rehearsing for the main shoot as the film has a lot to offer in way of challenges. There are big action sequences, dramatic arguments, and a stop-motion story. However, it's not all one film crew's cross to bear, I've been able to reach out to and collaborate with multiple courses: there's a production design students creating the stop-motion set, 2 model making students creating the armatures and props, a costume student helping with the football kit, an illustration student who drew up neat all my character design scribbles, a fine art student drawing the poster and, of course, 2 students from acting starring in the film. The cross-course collaboration has not only been fun, but it's also a taste of the real-life film creation, with all different departments working together.' – Samuel Burt
Midnight – written and directed by Anna Bant 
A young woman called Lily embarks on a dangerous night out, which changes her perception of the people around her. Struggling to keep herself safe, she faces the problems of deception, violence and betrayal.
'From pre-production of creating 'Midnight' to production, it has been awesome to see the piece visually come to life. My cast and crew have been excellent to work with, bringing new faces on set to collaborate with. Midnight has themes of sexual harassment and deception so being able to find the balance between realism and fiction was challenging. We also challenged ourselves by filming a car in the Northern Art Studio, used bokeh projections and created a full club scene in The Showroom Bar in Hartlepool. It has been really fun to work with graphic designers, music composers, special effects artists and set dressers. I am extremely grateful for everyone's efforts put into this film – 2 weeks of solid filming every day! Roll on post-production. When watching 'Midnight' make sure to look out for those hidden Cinderella Easter eggs.' – Anna Bant
Love Bethany – written and directed by Oscar W. Fitchett 
Two brothers, Wesley and Lucas, receive a letter from their sister, Bethany, inviting them to return to their childhood home, Bethany however has been dead for three years. Following their arrival to the house, the brothers are haunted by grief, guilt, and the final memories of their late sister.
'The process of working on my Final Major Project has been a smooth one, as it has allowed me to combine the wide-ranging knowledge I have gained from my time at The Northern School of Art into one creative endeavour. The Film, TV & Theatre Production course has not only given me the skills to efficiently direct my final narrative film, but also has prepared me in the fields of live television and the 16mm film format to where I can confidently utilise one of them in the professional industry. The creative establishment of the students is what makes the Northern Film Festival an exciting event to attend, as it will be a perfect display of the culminating training of up-and-coming filmmakers, and also showcases the first steps of multiple creative minds with great potential.' – Oscar W. Fitchett
A Story of Love and Inter-Planetary Warfare – written and directed by Robbie Tweedale 
A classic story of boy meets girl except, he is an alien, military tactician from an aeon long war, and she is an assassin from the other side sent to kill him. Will Robin enact her mission and kill Shaun, or will a budding romance get in the way?
'Production is coming along well with lots of laughs and a great energy on set. We're all looking forward to seeing this piece finally come together as it becomes all hands on deck for post-production. My first draft of this script was written three years ago and to finally see these ridiculous sci-fi ideas come to the screen will hopefully be something really special.' – Robbie Tweedale
Follow The Northern Film Festival on Twitter
Like The Northern Film Festival on Facebook
Follow The Northern Film Festival on Instagram