Dynamic Pricing
ARC's policy is to set ticket prices based on demand, like budget airlines, which means we set a price when the event goes on sale and then sometimes put the price up or down depending on how the show is selling. Usually, the price will increase as we get closer to the event, so it is advantageous to book in advance, although sometimes we will put special offers on and reduce the price. Our website will always show the current ticket price.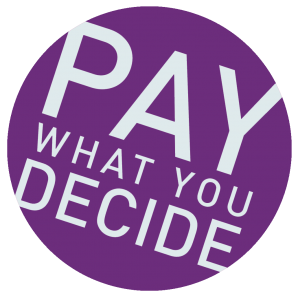 ARC's theatre and dance performances are priced on a Pay What You Decide basis, which means you don't have to pay until after you have seen a show!
We want to encourage more people to come and see shows at ARC, more often. Pay What You Decide not only allows you to pay what you can afford, rather than a fixed ticket price, but also removes the financial risk of buying a ticket for a show in advance without knowing whether you are going to enjoy it or not.
Tickets are available to book in advance as usual, but there is no obligation for you to pay until after you have seen the show. You can then decide on a price which you think is suitable based on your experience, which means if you haven't enjoyed it at all, you don't have to pay anything.
All money collected will help ARC pay the artists who have performed, and we therefore hope you will give generously.
Please ensure you have arrived and collected your tickets 15 minutes before the show starts in order to secure your seats. At the end of the show, you can decide what to pay, either by cash on the door or by card at the Box Office.
Seating: Allocated - See Seating Plan for More Details
ARC & Mike McGrother as The Wild Rover presents
The Teesside ARChetypes: An exploration of Stockton
Join Mike as he begins his exploration of the rich tapestry of Stockton on Tees and its archetypal characters: The Caregiver, The Outlaw, The Magician, The Creative, The Innocent, The Ruler, The Sage, The Explorer, The Hero, The Lover, The Jester, and The Everyman. The first instalment of a musical, observational residency where, as yet unrevealed residents will be given their own spotlight whilst new and old stories of the people of Stockton are shared in our Wild Rover's inimitable style!
We are told there are twelve archetypes which reflect humanity: The Innocent; The Everyman; The Hero; The Outlaw; The Explorer; The Creator; The Ruler; The Magician; The Lover; The Caregiver; The Jester, and The Sage. They live amongst us – and they ARE us! But who and where are they?!
Each month at ARC, in a brand new residency from Teesside's very own Wild Rover and Wildcats of Kilkenny frontman Mike McGrother, comes a series of gigs celebrating those Teessiders that embody those archetypes. Join Mike as he shares songs, stories and observations revealing often hidden but still (extra)ordinary Teesside people and events in his own, inimitable and 'mischievous' style.
Expect some special guests, musical collaborations and, knowing Mike, a few surprises thrown in for good measure. Mark these in your diary and enjoy a show each month that will leave you laughing, crying, thinking and learning so much more about our wonderful Teesside community and the people living in it.
Please note: Tickets for this performance are currently being sold on a socially distanced basis. As COVID-19 restrictions change we may update seating layouts, and so reserved seats may change from those selected at the time of booking. We will contact customers about changes to their booking including any changes to seating allocations.
Please note: This is a socially distanced event. Seats are available in strict bubbles, which allow at least a 1m gap between parties. Due to the current COVID-19 restrictions in place, group sizes are currently restricted to a maximum of six people, who must all be from one household / support bubble. We have done our best to provide availability for groups of various sizes, but if you can't see the seating bubble you need for your group, we are happy to help you find appropriate seating. You can contact our Box Office with your seating enquiries on 01642 525199 or email [email protected].
Photo credit – ENA Photography