No tickets are currently available.
Pay What You Decide Info
Dynamic Pricing
ARC's policy is to set ticket prices based on demand, like budget airlines, which means we set a price when the event goes on sale and then sometimes put the price up or down depending on how the show is selling. Usually, the price will increase as we get closer to the event, so it is advantageous to book in advance, although sometimes we will put special offers on and reduce the price. Our website will always show the current ticket price.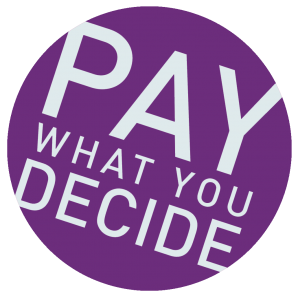 ARC's theatre and dance performances are priced on a Pay What You Decide basis, which means you don't have to pay until after you have seen a show!
We want to encourage more people to come and see shows at ARC, more often. Pay What You Decide not only allows you to pay what you can afford, rather than a fixed ticket price, but also removes the financial risk of buying a ticket for a show in advance without knowing whether you are going to enjoy it or not.
Tickets are available to book in advance as usual, but there is no obligation for you to pay until after you have seen the show. You can then decide on a price which you think is suitable based on your experience, which means if you haven't enjoyed it at all, you don't have to pay anything.
All money collected will help ARC pay the artists who have performed, and we therefore hope you will give generously.
Please ensure you have arrived and collected your tickets 15 minutes before the show starts in order to secure your seats. At the end of the show, you can decide what to pay, either by cash on the door or by card at the Box Office.
Seating: Allocated - See Seating Plan for More Details
Do you ever want to run away from it all?
Dan and Boff did exactly that: they ran a series of routes from the centre of the city in which they found themselves, to the top of the peak overlooking that city. But what are we really running from?
In story and in song, These Hills Are Ours is the story of what they found out on those journeys. It's about escaping it all by running to wild places. Escaping the city, escaping your past, escaping the restrictions of upbringing or class or politics. It's a celebration of wild places and our freedom to roam them.
Middlesbrough-born Daniel Bye's award-winning, internationally touring theatre is always engaging, thought-provoking and entertaining. Boff Whalley, best-known as a founder member of Chumbawamba, writes heartfelt, catchy folk songs. This, their first theatre piece together, sees them moving into their most personal material yet. It's a not-to-be-missed collaboration between two of Britain's most celebrated artists in their own fields.
'…it is Bye's personal struggles in the story of that 90-mile run that really hook you in' (Guardian)
'Whilst Dan takes the lead as storyteller, Boff's folk-style songs add an extra dimension to the performance… he weaves charming and clever lyrics with music which is sometimes wistful, sometimes haunting, always evocative.' (Reviewer No 9)
Co-commissioned by Beaford Arts, Eden Project, Lancaster Arts, Leeds Playhouse and Shoreditch Town Hall with support from artsdepot
Please note: This is a socially distanced event. Seats are available in strict bubbles, which allow at least a 1m gap between parties. Due to the current COVID-19 restrictions in place, group sizes are currently restricted to a maximum of six people, who must all be from one household / support bubble. We have done our best to provide availability for groups of various sizes, but if you can't see the seating bubble you need for your group, we are happy to help you find appropriate seating. You can contact our Box Office with your seating enquiries on 01642 525199 or email box.office@arconline.co.uk.