No tickets are currently available.
Dynamic Pricing
ARC's policy is to set ticket prices based on demand, like budget airlines, which means we set a price when the event goes on sale and then sometimes put the price up or down depending on how the show is selling. Usually, the price will increase as we get closer to the event, so it is advantageous to book in advance, although sometimes we will put special offers on and reduce the price. Our website will always show the current ticket price.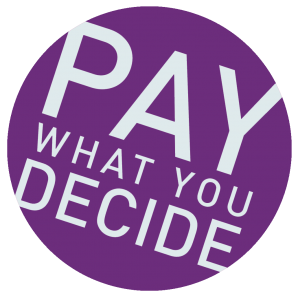 ARC's theatre and dance performances are priced on a Pay What You Decide basis, which means you don't have to pay until after you have seen a show!
We want to encourage more people to come and see shows at ARC, more often. Pay What You Decide not only allows you to pay what you can afford, rather than a fixed ticket price, but also removes the financial risk of buying a ticket for a show in advance without knowing whether you are going to enjoy it or not.
Tickets are available to book in advance as usual, but there is no obligation for you to pay until after you have seen the show. You can then decide on a price which you think is suitable based on your experience, which means if you haven't enjoyed it at all, you don't have to pay anything.
All money collected will help ARC pay the artists who have performed, and we therefore hope you will give generously.
Please ensure you have arrived and collected your tickets 15 minutes before the show starts in order to secure your seats. At the end of the show, you can decide what to pay, either by cash on the door or by card at the Box Office.
General Prices: £18 + £0.10 booking fee
Seating: Unreserved seated
One of the most distinguished song craftsmen of the 21st century is to make his long-awaited return to record in August 2018 and we're delighted to welcome Tom Baxter to Stockton in October. 
It was in 2008 that Tom brought out the self-funded 'Skybound,' the follow-up to the 2004 debut 'Feather & Stone,' which first alerted the wider world to his singular talent for absolutely believable, emotionally immersive composition. Since then, he's released one fan-only album, travelled the world, been through plenty of soul-searching and emerged at the other end with what may well be his best-ever work.
Baxter made his name with such heart-stopping originals as 'Better,' 'Almost There' and 'Day in Verona,' and his songs have been covered by much-loved entertainers from Dame Shirley Bassey all the way to Boyzone. He's admired by the likes of Tom Waits, Rufus Wainwright, Gary Barlow and actor David Schwimmer, and by a steadfast set of fans who've been waiting for word of his next adventure for more than a while.
They won't be disappointed. 'The Other Side of Blue' is Baxter's most searingly personal work to date, performed entirely solo and with gorgeous illustration on guitar and piano. It's a beautiful and elegant return to his very core as a songwriter and a human being. "I feel like I've been though a very slow metamorphosis over the years," he says. "Even I'm not sure into what, but I can say I'm calmer inside, and I thought it was time for a full-on new release."
While other artists rush so readily to provide the personal information that feeds the beast of self-promotion, Tom has kept his counsel, determined to be defined only by his music, and at his own pace. But it has been a tumultuous ten years. He married the longtime girlfriend for whom he wrote the Ivor Novello Award-nominated 'Better,' but then endured a divorce and, more recently, was happily remarried. Along the way, he lived in Devon, travelled to India, Los Angeles, Spain and then to Brazil, the place that inspired him to find the impetus to write again.
The new album is entirely free of "production camouflage," as he puts it, and is underpinned by 'The Ballad of Davey Graham,' the song he was inspired to write after a request to play at the unveiling of a blue plaque for the great guitar pioneer of the title. In a moment of pure serendipity, Davey's partner had written to request Tom's contribution because Graham was not only an admirer of his, but she revealed that Baxter's music was the last that Davey had listened to. Not that of Paul Simon, Jimmy Page or any of the other superstars he had inspired, but Tom Baxter.
Support comes from Rob Richings
Dynamic Pricing
We set ticket prices based on demand; the price can go up or down depending on how well a show is selling. The price will usually increase closer to the event date, so we always recommend booking in advance to take advantage of best price. You can read more about our dynamic pricing policy here.
Looking for a great bite to eat before the show?
Look no further than our modern and vibrant No 60 cafe bar for a fantastic place to enjoy a pre-show meal. You won't find a table closer to your seats anywhere in town.
No 60's menu is all about modern British food, from classic dishes you'll know and love alongside some of our chefs' personal favourites. Our ever-popular burger menu now offers over 30 combinations to choose from, and with a range of fresh and tasty vegetarian and vegan dishes there's something to suit every appetite.
Plus with a pre-ordered package you can enjoy a two-course pre-show dinner, including any main and any dessert for just £10, so you can save on the cost of your bill too!
See our full menu here.