Dynamic Pricing
ARC's policy is to set ticket prices based on demand, like budget airlines, which means we set a price when the event goes on sale and then sometimes put the price up or down depending on how the show is selling. Usually, the price will increase as we get closer to the event, so it is advantageous to book in advance, although sometimes we will put special offers on and reduce the price. Our website will always show the current ticket price.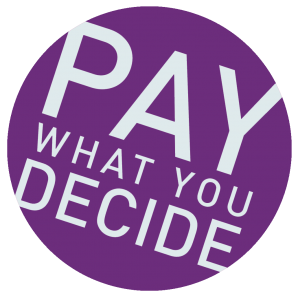 ARC's theatre and dance performances are priced on a Pay What You Decide basis, which means you don't have to pay until after you have seen a show!
We want to encourage more people to come and see shows at ARC, more often. Pay What You Decide not only allows you to pay what you can afford, rather than a fixed ticket price, but also removes the financial risk of buying a ticket for a show in advance without knowing whether you are going to enjoy it or not.
Tickets are available to book in advance as usual, but there is no obligation for you to pay until after you have seen the show. You can then decide on a price which you think is suitable based on your experience, which means if you haven't enjoyed it at all, you don't have to pay anything.
All money collected will help ARC pay the artists who have performed, and we therefore hope you will give generously.
Please ensure you have arrived and collected your tickets 15 minutes before the show starts in order to secure your seats. At the end of the show, you can decide what to pay, either by cash on the door or by card at the Box Office.
Led by Symoné, Artist of Change with ARC, UPRISING (IRL/URL) is a weekend long takeover of ARC, taking place from Friday 21 – Sunday 23 January 2022.
Artists from across the country who are of the Global Majority* will take over ARC, to present and take part in a series of informal performances, workshop-style activities, film screenings, conversations, discussions and reflections.
UPRISING (IRL/URL) will give artists of the Global Majority the opportunity to work to cultivate their artistic practice, try new skills, meet other artists, perform, network with producers, or just relax in a stimulating and safe environment.
*Global Majority is a collective term that refers to those who make-up 80% of the world's population. By 'global majority' we refer to those of the following backgrounds; African or Caribbean heritage, South Asian heritage, East Asian heritage, West Asian heritage, Central Asian heritage, South East Asian heritage, East Asian and South East Asian heritage, Middle East and North African heritage, and those who have experienced racism. By the term 'those who have experience racism', we are referring to individuals who have experience discrimination based on the colour of their skin, race and/or their culture.