Dynamic Pricing
ARC's policy is to set ticket prices based on demand, like budget airlines, which means we set a price when the event goes on sale and then sometimes put the price up or down depending on how the show is selling. Usually, the price will increase as we get closer to the event, so it is advantageous to book in advance, although sometimes we will put special offers on and reduce the price. Our website will always show the current ticket price.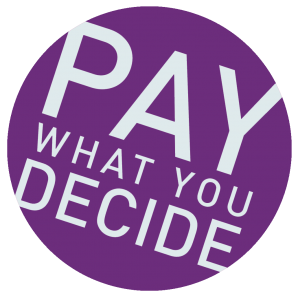 ARC's theatre and dance performances are priced on a Pay What You Decide basis, which means you don't have to pay until after you have seen a show!
We want to encourage more people to come and see shows at ARC, more often. Pay What You Decide not only allows you to pay what you can afford, rather than a fixed ticket price, but also removes the financial risk of buying a ticket for a show in advance without knowing whether you are going to enjoy it or not.
Tickets are available to book in advance as usual, but there is no obligation for you to pay until after you have seen the show. You can then decide on a price which you think is suitable based on your experience, which means if you haven't enjoyed it at all, you don't have to pay anything.
All money collected will help ARC pay the artists who have performed, and we therefore hope you will give generously.
Please ensure you have arrived and collected your tickets 15 minutes before the show starts in order to secure your seats. At the end of the show, you can decide what to pay, either by cash on the door or by card at the Box Office.
Uprising is a part retreat/part professional development for artists of the global majority (GM) and QTIPOC (queer and trans people of colour) who want to cultivate their artistic practice, network, or just relax in a stimulating atmosphere! Up to 15 artists will take over the entire building from Fri 1 – Sun 3 September 2023 to do as they would like for the weekend!
Uprising 2023 will be the second iteration of the event. Last year, we had peer-led narrative writing and poetry workshops, circus and stretch workshops for all levels, nature walks, ongoing installations around the building, speed dating with ARC's producers, a DJ and party, plus a few impromptu moments like a video game jam and a body painting/photoshoot jam! This year, we have focussed on inviting artists who want to make use of the ARC Stockton's facilities to make, discuss, or test work during the retreat.
Uprising is designed to shift perceptions, welcome new artists to ARC and provide a GM-led space with access to the organisation's resources, with the aim of building longer term relationships. For artists, it is designed to provide an opportunity to cultivate and enrich their artistic practice, to learn new skills, share existing ones and to build a peer network
Uprising is led by Artistic Director, Symoné created alongside steering group members Humira Imtiaz, Aerial Mel, Lauren Nicole Whitter, Hannabiell Sanders and Paula Varjack, and is supported by the Jerwood Foundation and Bradford Producing Hub.
Following an open call, the following artists were chosen to attend by the steering group:
Jova Bagioli-Reyes (they/she/he)
Chris Cambell (he/they)
Ffion Campbell-Davies (they/them)
Natalie Chan (she/her)
Alex Chand (she/they)
Jiayi Chen (she/they)
Daniela Cristo (she/her)
Hazel Lam (she/her)
Toni Lewis (she/they)
Dorine Mugisha (she/her)
Tahir Shah (he/him)
Maria Tarokh (she/her)