No tickets are currently available.
Pay What You Decide Info
Age: 16+
Duration: 1hr approx (40 mins per run plus cool down / cup of tea afterwards)
Dynamic Pricing
ARC's policy is to set ticket prices based on demand, like budget airlines, which means we set a price when the event goes on sale and then sometimes put the price up or down depending on how the show is selling. Usually, the price will increase as we get closer to the event, so it is advantageous to book in advance, although sometimes we will put special offers on and reduce the price. Our website will always show the current ticket price.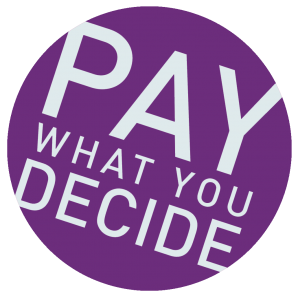 ARC's theatre and dance performances are priced on a Pay What You Decide basis, which means you don't have to pay until after you have seen a show!
We want to encourage more people to come and see shows at ARC, more often. Pay What You Decide not only allows you to pay what you can afford, rather than a fixed ticket price, but also removes the financial risk of buying a ticket for a show in advance without knowing whether you are going to enjoy it or not.
Tickets are available to book in advance as usual, but there is no obligation for you to pay until after you have seen the show. You can then decide on a price which you think is suitable based on your experience, which means if you haven't enjoyed it at all, you don't have to pay anything.
All money collected will help ARC pay the artists who have performed, and we therefore hope you will give generously.
Please ensure you have arrived and collected your tickets 15 minutes before the show starts in order to secure your seats. At the end of the show, you can decide what to pay, either by cash on the door or by card at the Box Office.
Get your running shoes on…
…join Jennifer Jackson's running encounter as she invites women to run, walk or travel with her on a one-to-one basis for 'up to' 40 minutes.
Part theatre. Part conversation. Part exercise. Part smashing the patriarchy.
Whilst you travel, she will chat about your experiences of exercising and moving through public spaces. Jenni may record your experiences of running, but this isn't a pre-requisite for signing up. Post run/show you will cool down over a civilised cup of tea.
Please come dressed to run. You will meet Jenni in the foyer at ARC, then walk with her to the start of the route (to be confirmed). The run will last up to 40 minutes, ending at the No 60 café within ARC, where Jenni will share a tea/coffee with you. Book your time slot now (if you'd like to participate but the times listed don't work for you, please get in touch).
If you have access requirements, please let us know and we can discuss the route.
As we run we become is a small radical act of solidarity in a public space.
Written and devised: by Jennifer Jackson with Simon Carroll Jones
Performers: Jennifer Jackson
Producing: The Murmuration
Previous collaborators: Davinia Jokhi (HOME Manchester), Rosie Scudder (Producer)
Follow As We Run We Become on Instagram
Themes

Women and power; exercising in public spaces; safety and risk; contested space. Jennifer also explores how innately biased towards men, town and city planning is, meaning that women, families, and people with disabilities are often overlooked.

The encounter continues on a digital space where Jenni will upload photographs of the runs and reflections. See the official show Instagram page for more images @aswerunwebecome.