Pay What You Decide Info
Running time: 1hr approx.
Dynamic Pricing
ARC's policy is to set ticket prices based on demand, like budget airlines, which means we set a price when the event goes on sale and then sometimes put the price up or down depending on how the show is selling. Usually, the price will increase as we get closer to the event, so it is advantageous to book in advance, although sometimes we will put special offers on and reduce the price. Our website will always show the current ticket price.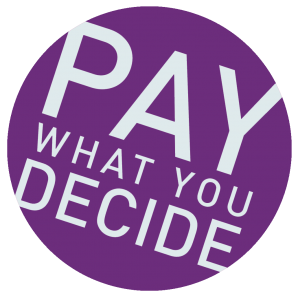 ARC's theatre and dance performances are priced on a Pay What You Decide basis, which means you don't have to pay until after you have seen a show!
We want to encourage more people to come and see shows at ARC, more often. Pay What You Decide not only allows you to pay what you can afford, rather than a fixed ticket price, but also removes the financial risk of buying a ticket for a show in advance without knowing whether you are going to enjoy it or not.
Tickets are available to book in advance as usual, but there is no obligation for you to pay until after you have seen the show. You can then decide on a price which you think is suitable based on your experience, which means if you haven't enjoyed it at all, you don't have to pay anything.
All money collected will help ARC pay the artists who have performed, and we therefore hope you will give generously.
Please ensure you have arrived and collected your tickets 15 minutes before the show starts in order to secure your seats. At the end of the show, you can decide what to pay, either by cash on the door or by card at the Box Office.
Seating: Unallocated - Theatre Style
It's getting HOT IN HERE, but there's still action that we all can take.
Developed from interviews between young people in the UK and climate activists around the world, HOT IN HERE explores the UK's place in the global climate crisis and shares the action young people are taking around the world to combat climate change.
The show is powered by the first energy-harvesting dancefloor in live theatre, converting the energy of the performers' bodies into electricity. And they'd love you to join the party at the end of the show – every movement on the dancefloor creates electricity so the more people that join in, the more power there will be! Every one of us, as individuals and as part of a community, can make a difference.
Made by Pigfoot, a multi award-winning theatre company telling stories about the climate crisis, with the least carbon impact possible.
Visit Pigfoot Theatre's website
Follow Pigfoot Theatre on Twitter
Like Pigfoot Theatre on Facebook
Follow Pigfoot Theatre on Instagram
Press / Awards for previous work

'actually practises what it preaches about climate change' (The Sunday Times on Pigfoot)

Pigfoot have been featured in The New York Times, Reuters, Sky News & BBC News.

Reviews for previous show, How To Save A Rock:

★ ★ ★ ★ ★ "hilarious and touching… as many people as possible should see it" – Theatre Weekly

"a whirlwind of fun for all ages… as delightful as it is important to see" – The Play's The Thing

★ ★ ★ ★ "hope is paramount" – The Scotsman

WINNER of the Sustainable Fringe Award 2019 for Best Company

WINNER of the Staging Change Award for VAULT Festival 2020

WINNER of the Sunday Times Playwriting Award, 2019 (NSDF)

WINNER of the Samuel French New Play Award, 2019 (NSDF)

WINNER of the Camden People's Theatre Award, 2019 (NSDF)

About Pigfoot Theatre

Pigfoot Theatre is the first carbon-neutral theatre company in the UK. We make multi award-winning theatre about the climate and ecological crisis. Our work 'practises what it preaches' (The Sunday Times on Pigfoot) and protests within an industry which, in London alone, has a carbon footprint of 50,000 tonnes a year. Our bike-powered family comedy How To Save A Rock has toured with English Touring Theatre to Northern Stage and Theatre By The Lake, with Battersea Arts Centre & Found in Music, and with support from Slung Low to the Albany, Camden People's Theatre and more. Our new show, Hostile Environments, supported by Boundless Theatre's Accelerator programme, will be produced in 2023.

Theatre: Access Information

Seating Accessibility Information

Seat size

In our theatre the seats are 38cm (15″) wide and 44.5cm (17½") deep. The seats are 44cm (171/3") from the floor, and have an 8cm (3") gap between seats.

Armrests

Seats have armrests on either side of the seat which cannot be removed completely. Seats on rows A, C and D have armrests which can be folded away and slot between the seat backs. On all other rows armrests are fixed and cannot be folded or removed.

Legroom

There is 30cm (112/3") of legroom in front of each seat, with additional legroom in rows D and L, and in Box 1 and Box 2.

Further information

If you have any questions about accessibility our Box Office team are always happy to help and can be contacted on 01642 525199 or by emailing box.office@arconline.co.uk - you can also tell us about your access requirements when prompted to do so during the online booking process.