No tickets are currently available.
Pay What You Decide Info
Running time: 1hr 20mins approx. (no interval)
Dynamic Pricing
ARC's policy is to set ticket prices based on demand, like budget airlines, which means we set a price when the event goes on sale and then sometimes put the price up or down depending on how the show is selling. Usually, the price will increase as we get closer to the event, so it is advantageous to book in advance, although sometimes we will put special offers on and reduce the price. Our website will always show the current ticket price.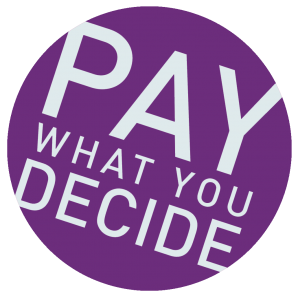 ARC's theatre and dance performances are priced on a Pay What You Decide basis, which means you don't have to pay until after you have seen a show!
We want to encourage more people to come and see shows at ARC, more often. Pay What You Decide not only allows you to pay what you can afford, rather than a fixed ticket price, but also removes the financial risk of buying a ticket for a show in advance without knowing whether you are going to enjoy it or not.
Tickets are available to book in advance as usual, but there is no obligation for you to pay until after you have seen the show. You can then decide on a price which you think is suitable based on your experience, which means if you haven't enjoyed it at all, you don't have to pay anything.
All money collected will help ARC pay the artists who have performed, and we therefore hope you will give generously.
Please ensure you have arrived and collected your tickets 15 minutes before the show starts in order to secure your seats. At the end of the show, you can decide what to pay, either by cash on the door or by card at the Box Office.
Seating: Unallocated - Theatre Style
With climate-related disasters on the rise, what would you put first – the future of the planet or your family?
The year is 2061. A man has lost his job. His mum is dying; his child and wife are starving and cold. They've been forgotten within society. He takes matters into his own hands and breaks the law to help his family; he helps his entire community who would have nothing without him. But this law is in place to save humanity. Is he guilty of a crime? Does he deserve to be punished for this crime?
You are part of the first ever trial to decide the fate of an individual who has broken a climate law. You, the audience, are the jury.
As jury members, you will hear from a variety of witnesses – from a woman based in Bangladesh to a global pop star – before the lights go up and you discuss what you've heard. You will have to question your own morals, debate on climate change, and consider geographical privilege as you decide on the outcome of the show. Your guilty or not guilty verdict will determine what happens next.
Born out of a desire to bring together arts and science, this production explores themes around climate change, equity and sustainability, offering audiences a uniquely interactive experience as they investigate the future of Britain.
This show from one of the UK's leading climate theatre companies has been described as 'A chilling reality of what could happen if we don't make a change. It's thought-provoking, urgent, quirky and terrifying.' (MancMuse) and 'an intriguing tour of a possible future where those living in poverty and geographically unprivileged areas are worst affected by the climate crisis.' (Aah Magazine).
The Wicked Problem was originally commissioned by Re:Con, (supported by Contact Theatre, Manchester) & commissioned by Season for Change, a UK-wide cultural programme inspiring urgent and inclusive action on climate change, led by Artsadmin and Julie's Bicycle, and supported by Arts Council England and Paul Hamlyn Foundation.
Visit Ergon Theatre's website
Follow Ergon Theatre on Twitter
Like Ergon Theatre on Facebook
Follow Ergon Theatre on Instagram
About Ergon Theatre

Ergon Theatre are one of the UK's leading companies making performance-based work about the climate crisis and futures. We make climate science accessible to people in educational, entertaining and empowering ways. We believe the arts have a unique and crucial role to play in the climate movement as a communicating bridge between the science community and the public.

Ergon Theatre first performed their debut 'climate justice' sellout show The Wicked Problem at Contact Theatre and Lancaster Arts as a part of Manchester's offering to COP26 (or FLOP26 as some have come to see it…). Their next project in development The Mariner is being supported by ARC Stockton.

Some of the companies Ergon Theatre have had the pleasure to work with includes Julie's Bicycle, Manchester International Festival, HOME, Contact, Manchester City Council, Zero Carbon Cities, The Lowry, Robert F Kennedy Human Rights, Mott MacDonald, Carbon Literacy Project, Creative Youth, The Culture House and National Environment Research Council.

Theatre: Access Information

Seating Accessibility Information

Seat size

In our theatre the seats are 38cm (15″) wide and 44.5cm (17½") deep. The seats are 44cm (171/3") from the floor, and have an 8cm (3") gap between seats.

Armrests

Seats have armrests on either side of the seat which cannot be removed completely. Seats on rows A, C and D have armrests which can be folded away and slot between the seat backs. On all other rows armrests are fixed and cannot be folded or removed.

Legroom

There is 30cm (112/3") of legroom in front of each seat, with additional legroom in rows D and L, and in Box 1 and Box 2.

Further information

If you have any questions about accessibility our Box Office team are always happy to help and can be contacted on 01642 525199 or by emailing [email protected] - you can also tell us about your access requirements when prompted to do so during the online booking process.