No tickets are currently available.
Age: 3-7 yrs
Running time: 45 mins
Dynamic Pricing
ARC's policy is to set ticket prices based on demand, like budget airlines, which means we set a price when the event goes on sale and then sometimes put the price up or down depending on how the show is selling. Usually, the price will increase as we get closer to the event, so it is advantageous to book in advance, although sometimes we will put special offers on and reduce the price. Our website will always show the current ticket price.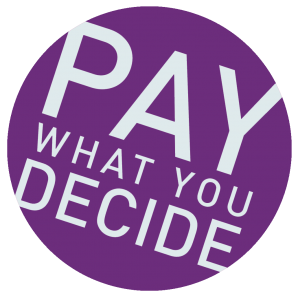 ARC's theatre and dance performances are priced on a Pay What You Decide basis, which means you don't have to pay until after you have seen a show!
We want to encourage more people to come and see shows at ARC, more often. Pay What You Decide not only allows you to pay what you can afford, rather than a fixed ticket price, but also removes the financial risk of buying a ticket for a show in advance without knowing whether you are going to enjoy it or not.
Tickets are available to book in advance as usual, but there is no obligation for you to pay until after you have seen the show. You can then decide on a price which you think is suitable based on your experience, which means if you haven't enjoyed it at all, you don't have to pay anything.
All money collected will help ARC pay the artists who have performed, and we therefore hope you will give generously.
Please ensure you have arrived and collected your tickets 15 minutes before the show starts in order to secure your seats. At the end of the show, you can decide what to pay, either by cash on the door or by card at the Box Office.
*Book early and save! Get tickets to our Christmas show, The Snow Queen (Tue 6 – Sat 24 Dec), for just £7.50 each when booking tickets for Oldilocks and the 3 Bears*
One winter, Oldilocks finds a teddy bear in the park and remembers a delicious bowl of porridge she tasted years ago in the woods. Something else happened but she can't quite remember what… so she sets off for the forest.  Will she find the bears house and what will happen then?
A wonderfully funny and warmhearted celebration of the classic story starring a naughty old lady who looks very familiar… and 3 funny bears who love their breakfast. Garlic Theatre hold their young audience spellbound with lovingly crafted puppets, music and some steaming bowls of porridge.
For ages 3 to 7 years.
All shows are relaxed performances. You can find out more about relaxed performances here.
Devised and designed by the Company
Performer Iklooshar Malara
Direction Steve Tiplady
Puppetry direction Mark Pitman and Liz Walker
Music Iklooshar Malara
Visit Garlic Theatre's website
Follow Garlic Theatre on Twitter
Like Garlic Theatre on Facebook
Follow Garlic Theatre on Instagram
*Book early and save! Get tickets to our Christmas show, The Snow Queen (Tue 6 – Sat 24 Dec), for just £7.50 each when booking with any family show from our spring 2022 season: Oldilocks and the 3 Bears*