No tickets are currently available.
Suitable for age 5 years – 105 years!
Running time: 70 mins (no interval)
Dynamic Pricing
ARC's policy is to set ticket prices based on demand, like budget airlines, which means we set a price when the event goes on sale and then sometimes put the price up or down depending on how the show is selling. Usually, the price will increase as we get closer to the event, so it is advantageous to book in advance, although sometimes we will put special offers on and reduce the price. Our website will always show the current ticket price.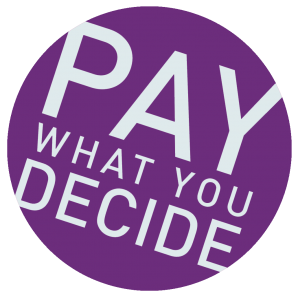 ARC's theatre and dance performances are priced on a Pay What You Decide basis, which means you don't have to pay until after you have seen a show!
We want to encourage more people to come and see shows at ARC, more often. Pay What You Decide not only allows you to pay what you can afford, rather than a fixed ticket price, but also removes the financial risk of buying a ticket for a show in advance without knowing whether you are going to enjoy it or not.
Tickets are available to book in advance as usual, but there is no obligation for you to pay until after you have seen the show. You can then decide on a price which you think is suitable based on your experience, which means if you haven't enjoyed it at all, you don't have to pay anything.
All money collected will help ARC pay the artists who have performed, and we therefore hope you will give generously.
Please ensure you have arrived and collected your tickets 15 minutes before the show starts in order to secure your seats. At the end of the show, you can decide what to pay, either by cash on the door or by card at the Box Office.
"Grown-ups never understand anything by themselves, and it is tiresome for children to be always and forever explaining things to them" Antoine de Saint-Exupéry
Protein celebrates their return to live theatre with the award-winning family show The Little Prince, retold by a pilot stranded in the desert.
Find out how the Little Prince leaves behind his own tiny asteroid and beloved rose and journeys through the universe, coming face to face with the baffling world of grown-ups! Have you ever heard of a king who reigns over nothing? Or a businessman obsessively counting stars?
Once on planet Earth, the Little Prince is welcomed by a mysterious snake and a truly wise and friendly fox before encountering the lone pilot. Together they discover the power and beauty of friendship and the complexity of love.
Based on the world-famous story by Antoine de Saint-Exupéry, Luca Silvestrini's The Little Prince is winner of the Fantastic for Families' Best Family Event Award 2020 and was nominated for Best Modern Choreography at the National Dance Awards 2021.
The Little Prince is brought to life using Protein's critically-acclaimed mix of dance, humour and spoken word. With an original score by Frank Moon, design by Yann Seabra, lighting by Jackie Shemesh and video design by Daniel Denton, Protein's new show invites us to look at the world through one's heart and to reconnect with our inner child.
Suitable for everyone young and old.
All shows are relaxed performances. You can find out more about relaxed performances here.
⭐⭐⭐⭐ "St-Exupéry's enigmatic tale delivered with quirky charm. Prendergast is touchingly excellent in the title role" The Observer
⭐⭐⭐⭐ "Charming, imaginative and playful" The Stage
⭐⭐⭐⭐ "an artful piece of children's entertainment without sacrificing adult appeal." The Times
Adapted and Directed by Luca Silvestrini
Co-commissioned by The Place and DanceEast. Supported by The Point, Eastleigh, Warwick Arts Centre and Dance City.
About Protein
Formed in 1997, Protein is one of the most distinctive voices in British dance theatre. Artistic Director Luca Silvestrini uses a blend of original choreography, humour and music to create witty shows, both on-and off-stage, that reflect the absurdity in everyday situations and experiences.