No tickets are currently available.
Age: 7-11+
Dynamic Pricing
ARC's policy is to set ticket prices based on demand, like budget airlines, which means we set a price when the event goes on sale and then sometimes put the price up or down depending on how the show is selling. Usually, the price will increase as we get closer to the event, so it is advantageous to book in advance, although sometimes we will put special offers on and reduce the price. Our website will always show the current ticket price.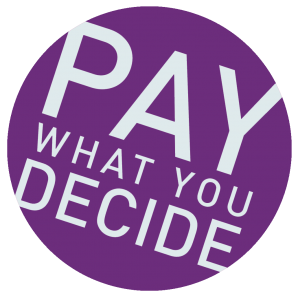 ARC's theatre and dance performances are priced on a Pay What You Decide basis, which means you don't have to pay until after you have seen a show!
We want to encourage more people to come and see shows at ARC, more often. Pay What You Decide not only allows you to pay what you can afford, rather than a fixed ticket price, but also removes the financial risk of buying a ticket for a show in advance without knowing whether you are going to enjoy it or not.
Tickets are available to book in advance as usual, but there is no obligation for you to pay until after you have seen the show. You can then decide on a price which you think is suitable based on your experience, which means if you haven't enjoyed it at all, you don't have to pay anything.
All money collected will help ARC pay the artists who have performed, and we therefore hope you will give generously.
Please ensure you have arrived and collected your tickets 15 minutes before the show starts in order to secure your seats. At the end of the show, you can decide what to pay, either by cash on the door or by card at the Box Office.
*Book early and save! Get tickets to our Christmas show, The Snow Queen (Tue 6 – Sat 24 Dec), for just £7.50 each when booking tickets for Stan*
Sam is a happy, dinosaur loving 8-year-old whose world turns upside down after his parents separate. As he takes himself off to the far end of the school field he meets Alex, a deaf girl with a vivid imagination – and an impressive collection of dinosaurs.
Bonding over boring packed lunches and their favourite fierce T-Rex, the pair form an unlikely friendship. When things at home become too difficult for Sam, Alex whisks him away on an astonishing adventure to meet the almighty Stan, the gigantic T-Rex at Manchester Museum.
A powerful and poignant new play by Sarah Emmott, Stan celebrates the power of play, the joy of communication and the positive force of friendship. Featuring awesome animated dinosaurs, Stan is written and performed in English and British Sign Language and embeds creative captions within the set.
Think Pixar's Inside Out meets Night at the Museum, Stan is well worth a visit!
'A lovely, warm-hearted bear hug of a show' – British Theatre Guide on Declaration
'Powerful, timely and valuable' – Teacher
'Exceptional, inclusive, important and joyful' – Audience Member
Advisory notes
Themes: Stan explores themes of parental separation.
Loud noises: There are 5 minutes in which loud noises are played – dinosaur roars, loud stomping footsteps and the sound of buildings being crushed. Ear Defenders will be available for people to use free of charge.
Lighting effects: Stan contains flashing lights and the use of haze during one scene in the play.
Latecomers' policy: We are happy to admit latecomers at any point during the performance.
What to expect when coming to watch Stan at ARC
If you like to know more about what to expect when coming to see the show, here is a visual guide with more information.
Access
Stan is written and performed in English and British Sign Language and embeds creative captions within the set. The post-performance workshop will be BSL Interpreted. We have worked with Deaf-led organisations, deaf children and Manchester Deaf Centre in developing the production and supporting workshops.
Free Workshop
In this free 30 minute workshop straight after the performance, we'll explore the play's key themes and we will collectively create letters to the characters using the strength and bravery we have all gained from our friend, Stan the T-Rex. The workshop will be BSL interpreted. This workshop has been made with both deaf and hearing children in mind and will be BSL Interpreted. Children can get involved as much or as little as they would like.
Commissioned by Z arts. Funded by Arts Council England. With support from Greater Manchester Combined Authority, The Lady Neville Charity, The Granada Foundation, Touchstones and the Backstage Trust. This project has been made possible by a grant from Postcode Community Trust, a grant-giving charity funded entirely by players of People's Postcode Lottery.
Watch as Art with Heart's young reporters review Stan and interview the cast at Z-arts in Manchester:
#StanTheDinoTour
Visit Art with Heart's website
Follow Art with Heart on Twitter
Like Art with Heart on Facebook
Follow Art with Heart on Instagram
*Book early and save! Get tickets to our Christmas show, The Snow Queen (Tue 6 – Sat 24 Dec), for just £7.50 each when booking with any family show from our spring 2022 season: Stan; SLIME; The Not So Ugly Sisters; Oldilocks and the 3 Bears*