Age: 4+
Running time: 50 mins
Dynamic Pricing
ARC's policy is to set ticket prices based on demand, like budget airlines, which means we set a price when the event goes on sale and then sometimes put the price up or down depending on how the show is selling. Usually, the price will increase as we get closer to the event, so it is advantageous to book in advance, although sometimes we will put special offers on and reduce the price. Our website will always show the current ticket price.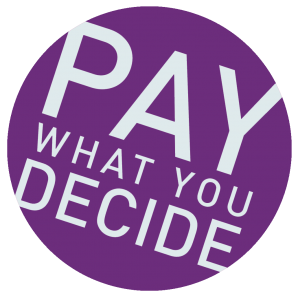 ARC's theatre and dance performances are priced on a Pay What You Decide basis, which means you don't have to pay until after you have seen a show!
We want to encourage more people to come and see shows at ARC, more often. Pay What You Decide not only allows you to pay what you can afford, rather than a fixed ticket price, but also removes the financial risk of buying a ticket for a show in advance without knowing whether you are going to enjoy it or not.
Tickets are available to book in advance as usual, but there is no obligation for you to pay until after you have seen the show. You can then decide on a price which you think is suitable based on your experience, which means if you haven't enjoyed it at all, you don't have to pay anything.
All money collected will help ARC pay the artists who have performed, and we therefore hope you will give generously.
Please ensure you have arrived and collected your tickets 15 minutes before the show starts in order to secure your seats. At the end of the show, you can decide what to pay, either by cash on the door or by card at the Box Office.
Seating: Allocated - See Seating Plan for More Details
With Frank's family so far away, he passes the time on his beloved allotment. When the plot next door becomes vacant, he really looks forward to meeting his new neighbour. Until she arrives that is! Isabella and her cheeky chickens soon disrupt Frank's peaceful routine. Things come to a head when Frank discovers Isabella in his shed, but he misunderstands the reason why. Staged on lovingly recreated life-size allotments, this charming tale about a lonely old man and an Eastern European girl helps us discover that, with the breaking down of barriers, friendship can grow in the most unlikely conditions.
'A living picture book' BBC Scotland
'Crammed with magical moments, truly captivating design, emotional territory so delicately and convincingly explored' The Herald Scotland
'Spellbinding tale of friendship and growth' The Stage
Age Guidance: 4+
Running time: 50 minutes
All shows are relaxed performances. You can find out more about relaxed performances here.
Like M6 Theatre Company on Facebook
Follow M6 Theatre Company on Twitter
Follow M6 Theatre Company on Instagram