No tickets are currently available.
Pay What You Decide Info
Age: 18+ (contains strobe lighting effects, sexual content such such as suggestive body movements, drug references, brief inclusion of pornographic video content showing oral and penetrative sex, and swearing)
Dynamic Pricing
ARC's policy is to set ticket prices based on demand, like budget airlines, which means we set a price when the event goes on sale and then sometimes put the price up or down depending on how the show is selling. Usually, the price will increase as we get closer to the event, so it is advantageous to book in advance, although sometimes we will put special offers on and reduce the price. Our website will always show the current ticket price.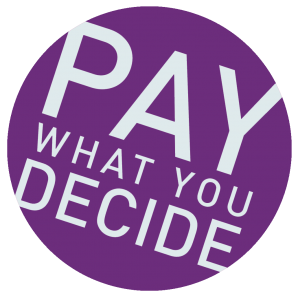 ARC's theatre and dance performances are priced on a Pay What You Decide basis, which means you don't have to pay until after you have seen a show!
We want to encourage more people to come and see shows at ARC, more often. Pay What You Decide not only allows you to pay what you can afford, rather than a fixed ticket price, but also removes the financial risk of buying a ticket for a show in advance without knowing whether you are going to enjoy it or not.
Tickets are available to book in advance as usual, but there is no obligation for you to pay until after you have seen the show. You can then decide on a price which you think is suitable based on your experience, which means if you haven't enjoyed it at all, you don't have to pay anything.
All money collected will help ARC pay the artists who have performed, and we therefore hope you will give generously.
Please ensure you have arrived and collected your tickets 15 minutes before the show starts in order to secure your seats. At the end of the show, you can decide what to pay, either by cash on the door or by card at the Box Office.
Seating: Unallocated - Theatre Style
Can the perfect UTOPIA exist?
UTOPIAN (t's&c's apply) is a surrealistic circus pop-culture experience about raves, hierarchy, and power. Joined by her two accomplices, Symoné takes the audience on an adventure filled with pole dancing, aerial, voguing, and high heel rollerskating in her psychedelic world asking the audience, 'why do people abuse power roles?'.
This show may or may not contain autobiographical references about cults.
Warnings: Contains strobe lighting effects, sexual content such such as suggestive body movements, drug references, brief inclusion of pornographic video content showing oral and penetrative sex, and swearing.
Allergy information: Balloons (latex, rubber, nylon)
"If you love a buzzing club atmosphere, amazing visuals and exceptional circus skills – this is for you. Symoné is totally bewitching and manages to be both in your face, loud, exciting, but also striking and emotive. It will likely leave you provoked, but utterly entertained." – Ema, Arts Producer, Cambridge Junction
​"Awkwardly Hilarious" – Audience Member
​"Symoné subverts the traditional malegaze and invites the audience into her personal space. Symoné's work, a strength of resolution, a rebellion against expectations of what the body and soul can do."- Broadway Baby
Visit Symoné's website
Follow Symoné on Twitter
Follow Symoné on Instagram
About Symoné

Symoné is a queer movement and performance artist based in the UK from Washington D.C. Her work shifts between cabaret, club and theatre work, fusing her movement based skills, such as high heel roller skates with hula hoops, pole dance, and voguing. Her roots into performing stemmed from underground raves and often these themes appear in her work. Alongside movement, her work inspiration stems from her writing, experiences and research around consciousness, celebration, and ritual. She has travelled internationally working in ten different countries with clients such as Jon Hopkins, Omi, Samsung, and Paul Smith and had editorial features in Time Out, Instagram, QX Magazine, Diva and The Stage. She has performed in the West End with award winning cabaret show, La Soirée and celebrity mindreader, Chris Cox. Symoné is a Guinness world record holder and always has something new up her sleeve to create a sensation.

Theatre: Access Information

Seating Accessibility Information

Seat size

In our theatre the seats are 38cm (15″) wide and 44.5cm (17½") deep. The seats are 44cm (171/3") from the floor, and have an 8cm (3") gap between seats.

Armrests

Seats have armrests on either side of the seat which cannot be removed completely. Seats on rows A, C and D have armrests which can be folded away and slot between the seat backs. On all other rows armrests are fixed and cannot be folded or removed.

Legroom

There is 30cm (112/3") of legroom in front of each seat, with additional legroom in rows D and L, and in Box 1 and Box 2.

Further information

If you have any questions about accessibility our Box Office team are always happy to help and can be contacted on 01642 525199 or by emailing [email protected] - you can also tell us about your access requirements when prompted to do so during the online booking process.