No tickets are currently available.
Pay What You Decide Info
Age: 14+
BSL interpreted
Dynamic Pricing
ARC's policy is to set ticket prices based on demand, like budget airlines, which means we set a price when the event goes on sale and then sometimes put the price up or down depending on how the show is selling. Usually, the price will increase as we get closer to the event, so it is advantageous to book in advance, although sometimes we will put special offers on and reduce the price. Our website will always show the current ticket price.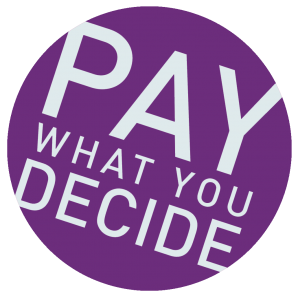 ARC's theatre and dance performances are priced on a Pay What You Decide basis, which means you don't have to pay until after you have seen a show!
We want to encourage more people to come and see shows at ARC, more often. Pay What You Decide not only allows you to pay what you can afford, rather than a fixed ticket price, but also removes the financial risk of buying a ticket for a show in advance without knowing whether you are going to enjoy it or not.
Tickets are available to book in advance as usual, but there is no obligation for you to pay until after you have seen the show. You can then decide on a price which you think is suitable based on your experience, which means if you haven't enjoyed it at all, you don't have to pay anything.
All money collected will help ARC pay the artists who have performed, and we therefore hope you will give generously.
Please ensure you have arrived and collected your tickets 15 minutes before the show starts in order to secure your seats. At the end of the show, you can decide what to pay, either by cash on the door or by card at the Box Office.
Please note: Due to recent illness which has had an impact on the schedule of the show, the performances of You Heard Me planned for Wed 16 & Thu 17 Feb will not be going ahead as originally intended. However, Luca and the team would like to invite those of you who would still like to come and see it to an open dress rehearsal on Thu 17. It won't be a fully finished version of the show, but it will be as close to it as they can get. Luca and the team are sad to have had to cancel the shows, but want to keep you involved as much as you can be. If you can make it, they very much look forward to seeing you on Thu 17.
You Heard Me is for anyone who has been underestimated.
Anyone who has been told to shut up.
Anyone who has been afraid to walk home.
You Heard Me is a true story.
You Heard Me is a celebration of a single moment of noise that freed Luca from an attack.
Made her understand what it means to take up space. To heal. To be part of something much bigger than yourself.
You Heard Me celebrates the quiet as well as the loud, the soft as well the hard.
This is a show about refusing to stay quiet and the power to re-make, re-mould and disrupt.
Are you listening?
CONTENT WARNING: contains references to sexual violence. If you would like more information, please read this detailed content warning.
This rehearsal will be BSL interpreted.
An ARC Stockton Production co-commissioned by The Albany, Battersea Arts Centre, Cambridge Junction, Theatre in the Mill and Northern Stage.
Made by Luca Rutherford with Maria Crocker, Melanie Wilson, Tanuja Amarasuriya, Bethany Wells, Stephanie McMann and Jenni Jackson.
Writer + Performer: Luca Rutherford
Director: Maria Crocker
Dramaturg: Tanuja Amarasuriya
Composer: Melanie Wilson
Designer: Bethany Wells
Movement Director: Stephanie McMann
Lighting Designer: Bethany Gupwell
Follow Luca Rutherford on Twitter
Follow Luca Rutherford on Instagram
See the You Heard Us public art installation currently being exhibited around Stockton.