£2,000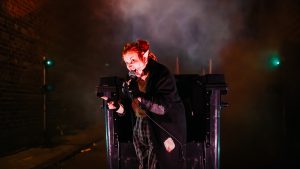 Audrey Cook/Ricky The Itch
Listen to the audio version here
What is the opportunity?
ARC is looking to support artists to try out new performance-based ideas in response to one of the following provocations, working with local communities in Stockton.
There are three opportunities to receive £2,000 in cash, along with space, accommodation, marketing, technical, producing and community engagement support.
These opportunities are not expected to lead to finished work, but artists will be expected to deliver some kind of public sharing of their work at the end of the process.
We are looking for ideas that can be delivered before the end of June 2024.
Deadline to apply: 10am, Mon 25 Sep 2023.
What are the provocations? 
The following provocations were created by independent creative director Paula Clark through creative conversations with our local communities as part of a project in 2021, which began with the question What's On Your Mind? (you can read more about the project here).
The project was designed to capture the key areas of interest and concern to our communities. We are using them as guiding principles for our programme to help ensure that ARC's work is relevant to our local communities.
Artists are asked to select one provocation to base their idea around. They are intended to be starting points for creative ideas, we are not looking for literal interpretations.
#Change
They are knocking down all of the listed buildings. They are knocking down the shopping centre. This is a lovely open town. Look at that river, it's beautiful. I wish there were more big shops. People are struggling. It used to be thriving. There are always going to be critics. I don't care what anyone says there are a lot of positive things about this town. Things work. It's not too big and not too small. We need more police. It's always evolving. It's always changing. There are no jobs. There is a lot of poverty. Have you heard of the Battle of Stockton? Things are not equal. Be kind. Don't resist. Let's party. We don't know how to talk to each other.
#Women
She was walking home.
#Escape
I want to be rich. I want to be famous. I want a mentor. I want to be the protagonist of my coming-of-age movie. It's not fair, I've reflected and it's not fair. I can get overwhelmed sometimes thinking about it. I want to live. What would I discover about myself if I did? Escape this. I'm Stuck. I'm trapped. I'm lonely. I'm happy. Should I stay or do I go now? Get me on an aeroplane. LET'S GO CAMPING!! I am lost. I never thought this place would be my forever. I think I will always be stuck here. I want an early night. I want some company, some close company. I want to party. I want a good cathartic cry, I want some help please? I want to be seen. I just full on just want to chill the fuck out. I want a bath and an early night, I want a vegetarian pizza with a big dollop of GARLO SAUCE please and thank you. I want to learn from my mistakes. I want a dog. I want to be you. I want never gets.
#Anger
After the consultation was over someone stayed behind to tell me exactly what was on their mind. They were angry and upset. They instructed me to write down exactly what they had to say. I haven't been able to get this exchange out of my mind since. They told me:
They had been a coal miner in a mine that was closed, despite still producing coal, by Margaret Thatcher's government. They said she was getting her own back. They were angry about the imbalance of power and inequality in society then and now. "This is control." they said. "This is about the government keeping the poor people poor." They said there are more people than jobs. That there is nothing left after bills. That they have worked their whole life, that people can't afford to eat. "My mum used to say the poor are always with you. I think it's from the bible. Well, it's true. I am so angry, it's the injustice, it's criminal. Who cares about us?"
#Before
What? Our hearing aids don't work so we can't hear you. Run out of battery. Nobody can get an appointment. We are used to it now. Speak louder! I am a grandma, I am an artist. I am a widower. I was a wife. I am more than capable! I was a Saxophone player in a band. I worked in the factory. I was stationed at the Suez Canal. I was a ballroom dancer, I won ballroom dancing medals! I met my husband in Nigeria. I was a photographer. There is nothing better than dancing with a pretty girl in your arms and oh I was good! I am mum. I am dad. I am brother. I am daughter. It was the saddest day of my life, the day she died. I came home. I don't regret a thing. I get up in the morning and I put the television on. Its good company. I am happy in my own self. I do what I want. I tell the kids, if I want 30 cardigans, I will buy them. I can afford it. Don't tell me what to do! I live alone, I left my husband, my dad still calls me every day. When is it my turn? I don't have a television anymore. It's too upsetting. Before I could make a difference. I have to protect myself. If I can't change anything then I am better off not knowing. I close my eyes and my ears or I would never get up in the morning. I don't listen to the kids. I don't care anymore. I wish there was more equality. Nobody listened to us. I don't want to know. I don't vote anymore. This country is dying and it's bloody cold. I gave up after Brexit. It's never going to be as good as it was before.
What are we trying to achieve?
Over the next three years, ARC is seeking to achieve a shift in our programme to a more community-led/influenced way of working. These opportunities form part of exploring how we might do that, by inviting artists to respond to things that are on the minds of our local communities.
ARC's artistic policy is to provide creative activity and cultural experiences that are contemporary and relevant. We want to present a creative programme that helps us understand and enjoy the world as it is today and excites us about the future.
Co-design is a key principle of our creative programme. This means we work proactively with artists and communities to develop work that is relevant to and resonates with our local communities. This doesn't necessarily mean work that is about, or made specifically for Stockton and the Tees Valley, but we present work that our local communities can connect to, and that helps us understand the world we live in.
By communities, we mean communities of place, interest, identity, need and action, and we also think of artists we work with as a 'community'.
The work we create is for our local communities, but also for communities like ours. They exist all over the country, in areas where there are high proportions of people facing inequalities and barriers to engaging with culture, usually as a result of either their protected characteristics or socio-economic status.
Working with communities
Part of the exploration we want to undertake is around how we can invite local people to be involved in the creation of work that doesn't necessarily rely on the traditional 'co-creation' model. We recognise that not everyone can or wants to work alongside artists as fully participating members of the creative team and are keen to test out other ways of meaningful involvement.
Firstly, we are involving local people in the selection process for these opportunities, which is a form of co-design.
We are looking for artists to consider how local people might contribute to the development of their ideas by:
sharing skills or stories in the development of the work, in a way that enriches participants' own lives; this could be a conversation over a cup of tea, or by artists joining existing groups to learn about their skills, work etc
playing a part in the creation of a work during the development process; this could be through attending a workshop or engagement opportunity, or working with artists to engage other people
in other new ways that are beneficial for the artist, individuals involved and the creative process
It could be through direct involvement in the creation, playing a proactive role in the development and devising process as well as the final work, working alongside artists in a more traditional co-creation way.
In addition to the £2,000 budget, we have up to £1,000 available to support community participants to take part, which may be in the form of expenses, bursaries, vouchers etc.
What do you get?
£2,000 cash budget
Producing, marketing and community engagement support from ARC
Technical support for the sharing
Rehearsal and creation space at ARC
Accommodation in the ARC House (subject to availability)
The final sharing can take place in any of the spaces at ARC, but we anticipate would be most likely to be in the Theatre or Studio. You can read about the spaces here
How to apply
Please send us the following information either in writing (maximum two A4 pages) or in a video or audio file (maximum 5 mins) plus one image of your work to [email protected]
Please use WeTransfer (which is a free service) if you are sending large files.
Deadline to apply: 10am, Mon 25 Sep 2023.
Please tell us:
Your name and contact details
Any relevant experience – this can include professional, educational, voluntary, personal and lived experience
Your idea, and how is connects to one of the provocations
Why you want to make this work, and who for
How you will involve local communities
Your ambition for the future of this project
How you will minimise any negative impact on the environment in the making and presentation of your work
Selection Process
All applications will be read by a panel made up of ARC staff and local artists:
Chloe Lawrence, Programmes Manager, ARC
Allison Birt, Producer, ARC
Lizzie Lovejoy, Artist
Jane Bizimana, Artist
The panel will shortlist a small number of artists who will be invited to a follow up meeting either in person or by Zoom to chat about their idea in more detail. Each panel will then select one artist to support as part of this programme.
Timeline
Deadline for proposals 10am, Mon 25 Sep 2023
Shortlisted applicants notified by 5pm, Mon 2 Oct 2023
Follow up meetings Mon 9 Oct 2023
Feedback to all applicants Mon 6 Nov 2023
Please indicate within your proposal if you are not available on the date of the follow up meeting.
Selection Criteria
The selection will be based on the following:
Idea for the project
Potential quality and impact of the community involvement
Deliverability of the project, including the skills and experience of the people involved as well as the available resources and timescale
Future potential of the idea
Environmental impact
We will provide brief feedback to all applicants, and more detailed feedback for those who are shortlisted. Feedback will be provided within four weeks of the deadline, or four weeks of the selection meetings for shortlisted candidates.
Please note: If you need any support in making your application, please contact [email protected].
Frequently Asked Questions
Audio Versions
Make New Work (Explore) Call Out